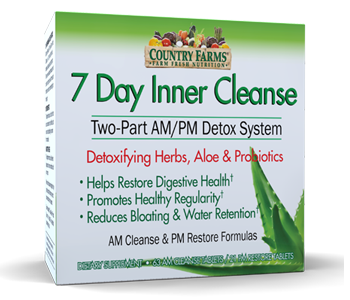 User Ratings (

0

Votes)

0
Today we review 7 Day Inner Cleanse System by Country Farms. When trying to lose weight it can be a good idea to cleanse your digestive system from any toxins or unnecessary waste before going on a diet. The reason for this is that it might help your body to lose weight faster and it can help you to not feel weighed down or bloated. The 7 Day Inner Cleanse System claims to help you restore your digestive health whilst also keeping your metabolism regular. This can lead to minimal water retention and can help to speed up your metabolism. If this product seems interesting to you, read our review below.
Ingredients
The product includes a Herbal Blend and a Fibre Blend. The main ingredients in the Herbal Blend are milk thistle seed, cayenne pepper, alfalfa leaf, black cohosh root, peppermint leaf and dandelion root. These ingredients were specifically chosen to help clear out any toxins or waste that might be present in your body. These ingredients naturally cleanse your digestive tract whilst also supplying you with antioxidants that help to support the organs that specifically aids digestion. The Fibre Blend is naturally high in fibre its ingredients include probiotics, apple pectin, lemon balm leaf, beet fibre, cascara sagrada bark, fennel seed, ginger root, rhubarb root and rice fibre. The Fibre Blend is packed with probiotics making sure that your digestive system is balanced and healthy. This blend also supports liver function helping you to get rid of even more toxins whilst simultaneously boosting your immune system. These two formulas work in conjunction with each other to boost your body and to help you to effectively lose weight.
Dosage
It is advised to take 9 tablets of the Herbal Blend daily. You can take the capsules with 3 separate meals. The capsules of the Fibre Blend should be taken in the evening and you should take 3 capsules per day.
Possible Side Effects
The Herbal Blend contains black cohosh thus making it unsuitable for pregnant or nursing women. Please consult your doctor before taking this supplement and also note that this product is also not suitable for children under 18 years of age.
Price
This product is not available directly from the manufacturer's website. You can find this product on Amazon for $13.82 which also includes free shipping. No discounts are currently available regarding this product and there is also no mention of free samples.
Guarantee & Feedback
Amazon does provide a 30-day money back guarantee if you are not happy or satisfied with this product. There are not a lot of reviews available regarding this product on Amazon but some of the reviewers said that they noticed very little results after using this product.
Our Conclusive Review About Country Farms 7 Day Inner Cleanse System
We like the ingredients used in this product and we feel that it offers well-rounded nutrition. We also like that it has little to no side effects. However, we are concerned about the reviews regarding this product on Amazon. We also feel that the manufacturers show very little support regarding their own product since they are not offering any free samples and also do not sell this product on their own website.
Bringing you top reviews and product analysis - Consumer Advisors.