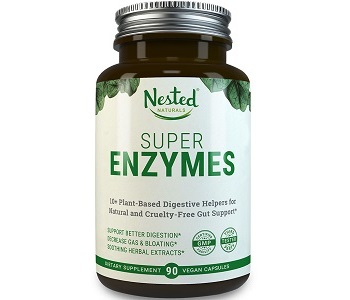 User Ratings (

0

Votes)

0
Today, our review will focus on Nested Naturals Super Enzymes. This product aims to help support better digestion and decrease gas and bloating. It also claims to contain ingredients that provide soothing relief from herbal extracts. Ultimately, the product helps break-down foods to allow a more natural digestive process. Keep on reading to see what Nested Naturals Super Enzymes is made of and if it is worth a try.
Ingredients
Nested Naturals Super Enzymes consists out of a digestive blend of various enzymes. These include papain, lipase, and amylase, just to name a few. The product also contains peppermint leaf, ginger root, and fennel seed extract. These help soothe the intestinal tract, whilst the enzymes break-down the food consumed. Unfortunately, the product does not contain BioPerine which increases absorption. Furthermore, the amount of ginger and peppermint in this product is very low. The intestinal tract might not get the soothing relief the manufacturer claims it will get.
Dosage
One capsule must be taken daily, with water, as needed. These are not very clear and informative instructions provided by the manufacturer. Users will not know how many capsules they may take in a day before they reach the limited dosage. Users will also not know if it should be taken with a meal. Poor instructions like this might cause the product to not be effective or it might cause harm to the user.
Price
A single bottle of 90 capsules can be purchased online from the manufacturer's website. It will cost you $27.95. This is a reasonable price, however, the manufacturer does not offer the customer discount or bulk packages for purchase.
Guarantee & Feedback
A lifetime money-back guarantee is offered by the manufacturer when a customer purchases one of their products. Customers do not even have to worry about returning the product they have opened and used. The manufacturer will provide you with a full refund if you are not satisfied with the results. This is a very solid guarantee and indicates that the manufacturer is very confident in their product.
We were unable to find any customer reviews on the manufacturer's website. Customer reviews found on Amazon were mostly set in a positive light.
Our Conclusive Review About Nested Naturals Super Enzymes
We have found a few positive aspects about the product Nested Naturals Super Enzymes. The manufacturer offers what seems to be a very solid money-back guarantee. Also, the product is filled with effective digestive enzymes.
Nonetheless, we have also found many negative aspects about the product. First of all, the manufacturer has not added BioPerine to the ingredients list. This substance would help increase absorption, making the product much more effective. It is also noteworthy that the product does contain peppermint and ginger, however in too low concentrations. It may not be enough to provide soothing relief to the intestinal tract. Lastly, the manufacturer does not offer a discount or bulk packages for purchase. These reasons lead us to believe that Nested Naturals Super Enzymes is not an effective product. Customers may want to choose an alternative IBS supplement.
Bringing you top reviews and product analysis - Consumer Advisors.