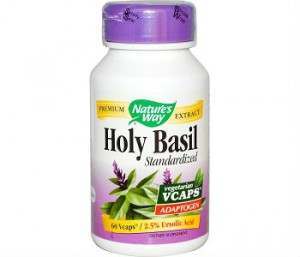 User Ratings (

0

Votes)

0
Nature's Way Holy Basil Standardized is an herbal supplement that can be an effective treatment for managing stress levels and improving one's feeling of well-being. The product uses extracts from the Holy Basil plant also known as Tulsi. The plant is considered sacred in Hindu culture due to its multiple health benefits, and was widely used in Ayurvedic medicine to treat different ailments.
More recently, clinical studies have also shown that Holy Basil extracts are effective at reducing typical stress symptoms such as lack of sleep, loss of libido, memory loss and exhaustion.
Holy Basil supplements are obviously an attractive alternative to synthetically produced pharmaceutical drugs which often have nasty side effects. But with so many different products out in the market, it can be hard to tell the difference between the good and the bad ones. So let's take a closer look at what Nature's Way Holy Basil Standardized actually has to offer.
Ingredients
You can quickly tell a quality product from a poor one by checking out its ingredients. Some supplements claim to be all-natural and pure but actually contain unnecessary fillers. While others simply contain very little plant extract.
450mg Holy Basil Leaf Extract (standardized to 2.5% Ursolic acid)
Magnesium stearate
Vegetable cellulose
Nature's Way Holy Basil Standardized contains a respectable 450mg of Holy Basil leaf extract that is standardized to 2.5% of Ursolic acid. Ursolic acid is considered as the key active ingredient responsible for regulating cortisol levels which controls our feelings of stress.
This Holy Basil supplement is relatively pure, save for the minimal amount of Magnesium stearate filler, which is a filler and offers no health benefits.
Dosage
Take one vegetable capsule of Nature's Way Holy Basil Standardized twice daily for optimum results.
Side Effects
Relative to the wide medicinal use of Holy Basil Leaf, no adverse side effects have been associated with it so far. It is therefore considered extremely safe to use. However, similar to any other supplement or medication, the manufacturer recommends that pregnant and nursing mothers consult a doctor first before trying out the product.
Price
A bottle of Nature's Way Holy Basil Standardized contains 60 veggie capsules and has a list price of $15.99. It can be found on sale fur much lower on Internet retail sites like Amazon. This is already a reasonable price considering its relatively high Ursolic acid content. Following the manufacturer's recommended dose, one bottle should be good for up to one month.
Guarantee
Since our bodies all react differently to both supplements and pharmaceutical drugs, a money back guarantee is ideal but rare when trying out any new treatments. Unfortunately, but not surprisingly, Nature's Way does not offer refunds if you are not satisfied with its products. If you need to return a bottle of Nature's Way Holy Basil Standardized, you'll have to deal directly with your retailer's return policy.
Conclusion Of Our Nature's Way Holy Basil Standardized Review
Nature's Way Holy Basil Standardized is a great product from a very well-respected company. It's got a considerable amount of Holy Basil leaf extract at 450mg and an adequate amount of Ursolic acid content to boot. In addition, the low price will hardly put a dent in your monthly budget.
It is very disappointing to note that this company does not offer a guarantee for their product.
Bringing you top reviews and product analysis - Consumer Advisors.