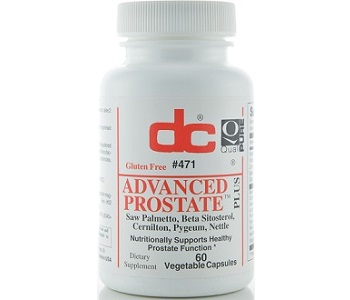 Quality of Ingredient

7.5

User Ratings (

0

Votes)

0
This is a review for Advanced Prostate Plus. This product claims to be a vegetarian-friendly supplement that will beneficially support the healthy functions of your prostate.
Ingredients
Vitamin D3 – 400 IU
Vitamin E – 100 IU
Zinc – 15 mg
Selenium – 20 mcg
Copper – 2 mg
Beta Sitosterol Complex – 134 mg
Cernilton Flower Pollen Extract – 60 mg
Green Tea Extract – 60 mg
Lycopene – 5 mg
Pumpkin Seed – 40 mg
Pygeum Extract – 200 mg
Red Clover – 2.5 mg
Saw Palmetto – 320 mg
Stinging Nettle – 170 mg
Vitamin D3 and Vitamin E are essential for many body functions and proper developments. Zinc helps benefit a healthy prostate. Selenium may increase the action of antioxidants and is also important for many body functions. Copper may help prevent BPH. Beta-sitosterol complex is similar to cholesterol which may help to reduce cholesterol levels and may also help to reduce inflammation of your prostate. Cernilton flower pollen extract contains a vast amount of concentrated vitamins, minerals, antioxidants, fatty acids and amino acids that are beneficial. Green tea extract works as a powerful antioxidant. Lycopene may slow down the growth of cancer cells. Pumpkin seed increases urination to relieve bladder discomfort. Pygeum extract works as an anti-inflammatory and may treat an enlarged prostate. Red clover contains chemicals similar to estrogen. Saw palmetto helps to treat many prostate conditions. Stinging nettle is said to treat urinary conditions and early signs of an enlarged prostate.
Dosage
The manufacturer suggests that men should take two capsules per day along with a meal.
Possible Side Effects
This product seems to have no cautioned possible side effects, however, saw palmetto that is used may have some side effects such as liver and pancreas damage according to research so you should probably first consult a doctor before using this product as a safety precaution.
Price
This product can be purchased online through third party websites and it will cost you around $31.68 according to one online retailer. There does not seem to be any discounts available, unfortunately.
Guarantee & Feedback
The manufacturer does not seem to offer any kind of money back guarantee however, you may find that some third party retailers will have some type of guarantees in place. There are no customer reviews available to provide any feedback regarding the use and effectiveness of this product.
Our Conclusive Review About Dee Cee laboratories Advanced Prostate Plus
This supplement does have some good ingredients so it could be considered as a fairly ok product. It does also have clear dosage instructions, however, this is a rather expensive product and this is especially disappointing when considering that there is no manufacturer's money back guarantee. It is also unfortunate that this product uses an ingredient that may have some significant side effects and there are no customer reviews on the manufacturer's website. In general, Advanced Prostate Plus does not stand out in any noticeable way in comparison to other similar products and therefore, it may be a good idea to consider other suitable options.
Bringing you top reviews and product analysis - Consumer Advisors.