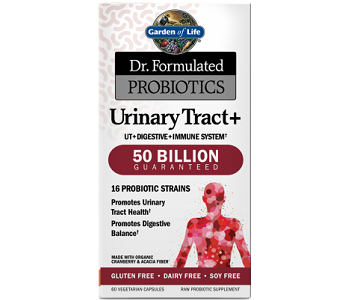 User Ratings (

0

Votes)

0
Urinary Tract Infections or UTIs are estimated to affect one in every two women at some point in her life and for 20-30% of them, UTIs will be a recurring problem. Because of anatomical differences, UTIs mostly affect women, but men are also susceptible. Symptoms include burning and a painful sensation during urination, frequent urges to urinate, cloudy and bloody urine, nausea and vomiting. There are a variety of ways to combat these infections by taking antibiotics, supplements, and probiotics. This review is going to examine Dr. Formulated Probiotics Urinary Tract + 50 Billion CFU. This product helps maintain urinary tract health through its combination of probiotics and Pacran Whole Cranberry. Probiotics are believed to limit recurring urinary tract infections by replenishing naturally occurring bacteria that live in the urinary tract.
Ingredients
Vitamin D – 1,000 IU
Women's Probiotic Blend (Lactobacillus plantarum, Lactobacillus acidophilus, Lactobacillus paracasei, Lactobacillus rhamnosus, Lactobacillus gasseri, Lactobacillus casei, Lactobacillus acidophilus NCFM, Lactobacillus reuteri, Lactobacillus brevis, Lactobacillus bulgaricus, Lactobacillus salivarius) – 164 mg
Lacto Cultures (Bifidobacterium lactis, Bifidobacterium bifidum, Bifidobacterium breve, Bifidobacterium infantis, Bifidobacterium longum) – 45 Billion CFU
Bifido Cultures – 5 billion CFU
Probiotic Cultures – 50 Billion CFU
Organic Pacran Whole Cranberry – 500 mg
Organic Prebiotic Fiber Blend (Organic potato, Organic Acacia Fiber) – 439 mg
Inactive Ingredients: Non-GMO Vegetable Pullulan Capsule.
Lactobacilli are believed to dominate the urogenital flora bacteria in a healthy woman. It is believed that restoration of the urogenital flora with lactobacilli may protect against UTIs. Cranberry aids in the prevention of UTIs by causing the urine to become acid and therefore causes the bad bacteria stick to the wall lining of the urinary tract.
Dosage
The manufacturer suggests adults taking 2 capsules daily with or without food. You can open the capsules and mix them with water or juice. This product is not intended for children. If you are pregnant, nursing or under medical supervision, you should consult with your healthcare provider before consuming this product.
Possible Side Effects
Garden of Life does not list any possible side effects. In our research, we were able to find that common side effects associated with taking probiotics and cranberry are gas, bloating and diarrhea.
Price
This product is available on the manufacturer's website for $35.96 for a 60-capsule bottle. They do not offer reduced price bulk purchasing.
Guarantee & Feedback
The manufacturer offers a 30-day money back guarantee but does not stipulate any further terms and conditions. You should contact the customer service to inquire about up to date policies before purchasing this product. The consumer reviews were mixed about these probiotics. Some consumers reported that this supplement was ineffective for them and others claimed that it had caused their skin to break out.
Our Conclusive Review About Dr. Formulated Probiotics Urinary Tract+ 50 Billion CFU
These probiotics are unique in the way they are blended with Cranberry to achieve optimal urinary tract health. They come in easy to swallow capsules. However, Garden of Life does not offer any bulk purchasing options which makes it less affordable to take these capsules continuously and maintain optimal urinary tract health in the long term, especially considering that they are expensive relative to similar products on the market. Their money-back guarantee is also limited and does not offer sufficient time to see if the product works for you and still have time to get a refund.
Bringing you top reviews and product analysis - Consumer Advisors.