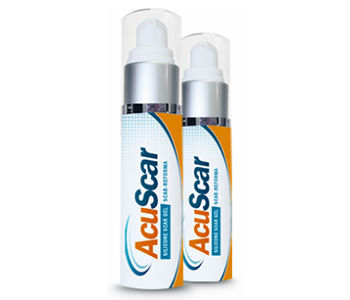 User Ratings (

0

Votes)

0
AcuScar Silicone Scar Gel is a scar treatment cream whose sole purpose is to reduce the appearance of scars, while reducing itching, redness, irritation and swelling. This product works on new and old scars alike.  It is designed to form a waterproof seal that will retain moisture  and protect the scar from environmental irritants.
AcuScar Silicone Scar Gel is intended for use on the following:
surgery scars
accidental scars
pregnancy/c-section scar
burns
stretch marks
acne scars
breast implants / reduction
Ingredients
AcuScar Silicone Scar Gel is made of 100% silicone gel.  There is no other information available as to ingredients.  This can be a deterrent to purchase.
Dosage
AcuScar Silicone Scar Gel recommends application of a small amount of the cream, massage in thoroughly, and then allow to dry, to the affected area twice daily.  Repeat until the scar is completely gone.  This should be continued 60 -90 days or until results are no longer noticeable.
Side Effects
There are no possible side effects listed for this product.  AcuScar Silicone Scar Gel claims to be safe on children and adults.  Pregnant or lactating women should contact their physician before use.
There are no long-term results that are listed for this product.  AcuScar Silicone Scar Gel claims that use for 60 – 90 days will provide the best results.
Price
AcuScar Silicone Scar Gel is set at the following price point:
$49.95 — single bottle
$99.00 — buy two, get one free
AcuScar Silicone Scar Gel is moderately priced when compared to other scar treatment options.  It does at least offer some sort of variety in purchase options.
Guarantee
AcuScar Silicone Scar Gel has no money back guarantee. A consumer should be wary of large quantity purchases until they are sure that the product is for them.  Whatever a consumer purchases is final and there is no recourse to seek a refund for any opened bottles.  Unopened bottles are accepted within 30 days of purchase and are subject to a 25% re-stocking fee.  This is  important to know when it comes to purchases.
Conclusion Of Our AcuScar Silicone Scar Gel Review
The missing confidence in the product in the form of no guarantee is enough to give the consumer pause when considering this scar treatment option.  If this product does indeed perform as claimed, then why is the guarantee so against returning it?  Why should a consumer spend their hard earned money on a product that cannot back up its effectiveness?  The main issue with penalizing a customer with a large restocking fee is that its not a good way to build consumer confidence in the product.
Bringing you top reviews and product analysis - Consumer Advisors.