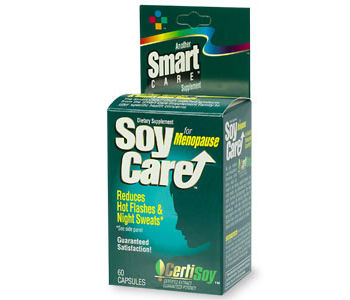 User Ratings (

0

Votes)

0
Menopause brings vast changes in the female body. This stage befalls when a woman enters her late 40's or early 50's. As the female body ages, it stops producing hormones. As these internal changes are occurring, they also bring a host of discomforting side effects like night sweats, hot flashes, fatigue, sleep disorders, anxiety attacks, lack of concentration, dizziness and light-headedness, irregular weight gain and depression.
SoyCare is a dietary supplement specially created to treat menopausal symptoms. It is a fully bio-organic health care product made from natural soybeans. The Isoflavones (phytoestrogen) it contains are plant-based compounds that are beneficial in relieving everyday discomforts associated with menopause, and help in restoring the hormonal imbalance created in the system.
Ingredients
The following is a list of ingredients SoyCare supplements contain:
Soy isoflavones
Silicon dioxide
Soy protein concentrate
Dicalcium Phosphate
This product contains no lactose, sodium, artificial colours, artificial flavours, preservatives or sugar. Thus, it is completely natural and especially suitable for you if you are on an organic diet.
Dosage
The recommended dosage is 2 pills a day, with a gap of 12 hours. Isoflavone levels in the body tend to drop after 8 to 12 hours, so two capsules a day will make for the most favourable intake to assist with morning and night discomforts. However, it is best to first consult your physician before starting the course. These supplements can be taken with multivitamins.
Store the pills in a dry place so they do not lose their efficacy.
Side Effects
Although these supplements have been cleared for general consumption, they are not recommended for soy-allergic people. Also, these are unsuitable for pregnant women or for ages below 14. Furthermore, this product should not be combined with Hormone Replacement Therapy (HRT). In this case, consult your physician.
The soy isoflavones ingested tend to remain active for a maximum of 12 hours, before being expelled from the body. Isoflavones are plant-derived estrogens and they are only effective as long as they last in the system. Hence there is a need to restore estrogen levels by taking two doses a day.
Price
SoyCare is easily affordable. A pack containing 60 capsules (that constitutes a month's supply) costs $12.99. You can avail a 10% discount if you go for the auto reorder option. So, the price is affordable for most people and for this very reason, this capsule is quite commonly ordered.
Guarantee
The packaging contains the words "Guaranteed satisfaction" which means it has been cleared by the health authorities. The company also offers a month's return policy if you find the product does not suit your needs or live up to your expectations.
Conclusion Of Our Soy Care for Menopause Review
Soy isoflavones are one of the most common ingredients used in menopausal supplements. However, it contains just a single active ingredient and so its health benefits are limited to hormone regulation. It does not help with the additional symptoms caused by menopause, like hair loss, brittle bones, etc.
As it comes with a safe-for-use guarantee, SoyCare may be tried.
Bringing you top reviews and product analysis - Consumer Advisors.