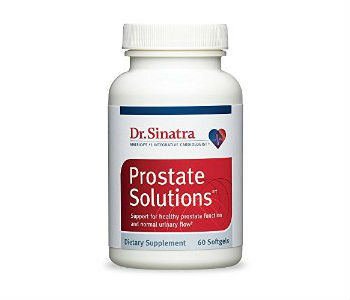 User Ratings (

0

Votes)

0
Dr. Sinatra claims Prostate Solutions to be a ground-breaking supplement which addresses all prostate problems like enlargement of prostate gland, frequent urination, hormonal imbalances and free-radical damage to the prostate. The formula used in this supplement contains ingredients which are very popularly used in most prostate medications since they support healthy prostate size as well as general sexual health. Besides those, the formula also contains several anti-oxidants as well as vitamins and minerals which not only ensure health of the prostate gland but also cleanse the entire body system.
Ingredients
Prostate Solutions has a blend of several useful ingredients, each of which serves a different purpose. It includes anti-oxidants which detoxify the body and cleanse the blood, vitamins and minerals which are necessary for general body immunity and other ingredients which are clinically proven to be useful for prostate problems treatment. Here is a look at some of the main ingredients:
Saw Palmetto – It is one of the most popular herbal ingredients which maintains testosterone levels in the body and prevents production of certain hormones which may cause prostate cancer.
Graminex G63™* Flower Pollen – This is a relatively newly discovered ingredient for prostate treatment and not a lot of supplements use it. However, it has proven to be quite effective in maintaining the health of prostate, especially in controlling inflammation.
Lycopene – A kind of tomato extract which prevents free-radical damage to the prostate.
Grape Seed Extract – It acts as a great anti-oxidant.
Zinc and Selenium – The deficiency of either of these two minerals can cause prostate problems and therefore they are always a welcome addition to any prostate health supplement.
Dr. Sinatra's Prostate Solutions lacks several ingredients like Beta Sitosterol, Epimedium, Nettle Extract and Pygeum Africanum, all of which are very essential for a prostate health supplement.
Dosage
This supplement comes in the form of softgels and has to be taken along with meals. Recommended dosage is two pills in a day.
Side Effects
No side effects to this supplement have been reported till date. The reason behind it may be that it has all natural ingredients only with no use of drugs in its composition.
Long Term Results
Prostate Solutions seems to be a pretty mild supplement and therefore can be taken by those who are concerned about maintaining their prostate health but do not suffer from any prostate related problems. When taken on a long term basis, this supplement is sure to positively affect prostate health and prevent enlargement of prostate gland with age.
Price
One bottle of Prostate Solutions, containing 60 softgels i.e. a one month dosage costs $29.99. However, the manufacturer gives a discount of bulk purchases as on a purchase of 3 bottles, 1 bottle is given free while on a purchase of 5 bottles, 2 bottles are given free. The supplement is quite reasonably priced, even bordering on cheap, which is not surprising given the lack of several important ingredients in its composition.
Guarantee
The manufacturer gives a 90 day no-questions-asked guarantee.
Conclusion Of Our Dr. Sinatra Prostate Solutions Review
Dr. Sinatra's Prostate Solutions will be good for prostate health but it cannot be said how effective it really will be considering the fact that several ingredients necessary for prostate health are missing. However, since it is cheaper than many other prostate health supplements, it may be a good choice for those who just want a precautionary natural health supplement to keep their prostate healthy.
Bringing you top reviews and product analysis - Consumer Advisors.