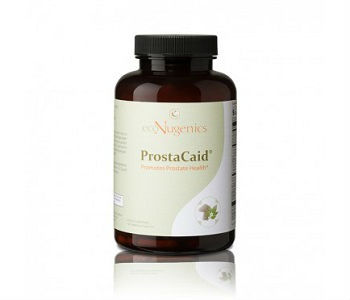 User Ratings (

0

Votes)

0
Prostacaid, developed by Eco Nugenics is a health supplement for supporting prostate cellular health and to regulate the hormonal balance affecting prostate. Besides being a herbal product for maintaining prostate health, it also contains anti-oxidants which are great for detoxifying the liver. Here are some of the claims made by this supplement:
Maintains Hormonal Balance – Prostate gland is extremely sensitive to hormones and even the slightest imbalance can cause problems.
Maintains prostate health – The supplement contains several beneficial vitamins and minerals which promote prostate health.
Provides daily, active support to prostate health – Depending on the dosage, the supplement can either provide daily support for long term benefits on a low dosage or active, immediate cure on a high dosage.
Scientifically Researched Formula – The supplement claims to be made from a formula which is proven to be effective and without any side effects.
Discourages Prostate growth – It prevents inflammation or enlargement of the prostate which will help avoid prostate treatment medication.
Ingredients
The list of ingredients of this supplement is quite long as it incorporates four proprietary blends along with a dozen vitamins and minerals:
Prostate Support Proprietary Blend – Saw Palmetto, Turmeric Rhizome Extract, Pumpkin Seed Extract, Pygeum Bark and Lycopene. As the name suggests, all the ingredients, particularly Saw Palmetto and Pygeum Bark are extremely effective in maintaining level of testosterone and fighting symptom of prostate cancer.
Immune & Hormonal Support Proprietary Blend – Stinging Nettle Leaf Extract, Alpha Lipoic Acid, Green Tea Leaf and Job's Tears Seed Extract. The combination of amino acids with anti-oxidants are great for the overall health of prostate.
Liver Support Proprietary Blend – Broccoli Extract, Skullcap Herb Extract, Chinese Skullcap Root Extract and Dandelion Root Extract. Apart from the prostate, this supplement provides commendable support to the liver as well.
MycoCaid® Organic Herbally Enhanced Mushroom Proprietary Blend – Phellinus linteus, Reishi and Coriolus. This blend developed by Dr. Issac Eliaz is necessary for the general prostate health as well as for body immunity system.
Beta Sitosterol – A very important ingredient which is essential to control enlargement of prostate. It is impressive to see that due importance has been given to this ingredient by including it separately from the proprietary blends.
Zinc and Selenium – These minerals are essential for prostate health and a deficiency of these in the body can lead to prostate enlargement.
Dosage
The dosage of these tablets depends on the severity of the problem. For a daily support for prostate health, a dosage of 2 tablets is sufficient while for those suffering from major prostate issues, a dosage of 6 tablets in a day may be required. It is best to consult a physician before deciding on the dosage.
Side Effects
The supplement is made through a scientifically researched method, specifically ensuring that there are no side effects.
Price
A bottle of ProstaCaid costs $99.99 and contains 120 tablets. For a high dosage consumer this means only a 20 day supply which is a very steep price to pay for a health supplement. The official website is offering a 25-30% discount but it is not clear whether it is a limited period offer. All in all, these tablets are definitely very expensive and you should be absolutely sure of their effectiveness before buying them.
Guarantee
The supplement comes with a 30 day guarantee which is insufficient time to test the effectiveness of the tablets. Besides, the guarantee extends only to unopened bottles and a restocking fees may also be charged.
Conclusion Of Our Eco Nugenics ProstaCaid Review
Prostacaid is a supplement with many healthy qualities and is aimed at not only promoting prostate health but also liver health and general body immunity. However, it is quite costly and it does not have FDA clearance.
Bringing you top reviews and product analysis - Consumer Advisors.