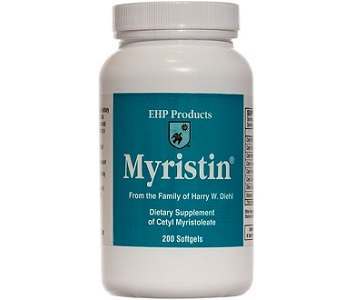 User Ratings (

0

Votes)

0
Joints form the connections between bones. These are what help us to move. Any disease or injury that damages the joints can cause a lot of pain and can affect our movement. As we get older, joint pain becomes more common. Joint pain can range from mild to debilitating, but can usually be managed with medication or alternative treatments. This review takes a look at the joint support supplement Myristin by EHP products. This product claims to be beneficial as it contains cetylated fatty acids which contain a concentration of 40% CMO (Cetyl Myristoleate). The manufacturer claims that this is the highest concentration you can find. The manufacturer claims that this product will provide relief within two months.
Ingredients
This product contains a variety of fatty acids including Cetyl Myristoleate (CMO), Cetyl Oleate, Cetyl Myristate, Cetyl Linoleate, Cetyl Palmitate, Cetyl Stearate, as well as other Cetyl Esters and Vitamin E. These fatty acids are derived from coconuts for this product. CMO is well-known for its benefits for joint health. It is believed to lubricate the joints and help with flexibility. It may also help reduce inflammation.
The manufacturer offers another supplement to be taken with Myristin called Myrist-Aid. This product contains glucosamine sulfate, MSM, bromelain, curcumin, manganese, and Vitamin C.
Dosage
It is recommended to take three softgels a day. These should be taken about 30-45 minutes before meals, on an empty stomach. However, the manufacturer states that you don't have to wait that long if it suits your schedule better. After a period of two months, the manufacturer states you can drop to the maintenance dosage of one softgel a day. The manufacturer states that you should take three Myrist-Aid capsules with each softgel at lunch and dinner, and two at breakfast.
Possible Side Effects
The manufacturer has not mentioned any side effects of this product. However, it does seem that it could affect those with sensitive stomachs as the manufacturer offers a lower dose of CMO for those who do have sensitive stomachs. If you are taking any other medications, or if you are pregnant or breastfeeding, it is recommended to consult a doctor before taking this product. The manufacturer mentions that there are certain foods which may affect the absorption of CMO such as tea, citrus juice, and carbonated beverages.
Price
The manufacturer offers a few different package options on their website which can be difficult to understand. The package containing 51 Myristin softgels and 136 Myrist-Aid capsules will cost you $54.95 when buying online. You can also buy this combination consisting of two, three and four bottles of each. Four bottles of each will cost $179.95.
Guarantee & Feedback
The manufacturer does not seem to offer any money-back guarantee or return policy which is unfortunate. We were also not able to find any user reviews to see how customers feel about the product.
Our Conclusive Review About EHP Products Myristin
The combination of the Myristin and Myrist-Aid capsules will provide you with the necessary ingredients to support joint health. However, there are other products that offer these ingredients in a single product without having to take 11 tablets a day. The lack of a manufacturer's guarantee is another drawback that may make you want to look for an alternative product.
Bringing you top reviews and product analysis - Consumer Advisors.