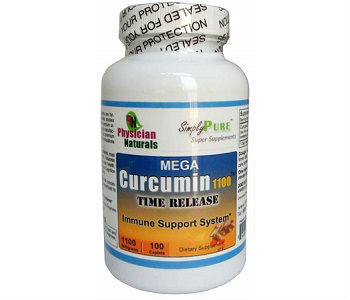 User Ratings (

0

Votes)

0
It is well known that there are significant health benefits in taking curcumin on a daily basis. The list of benefits includes; lower cholesterol, healthy circulation, digestive balance, improved clearness of mind, improved skin condition, healthy organ function and lower levels of toxins in the blood. Furthermore, there are numerous diseases and ailments that are treated by turmeric like Alzheimer's, Cancer, Arthritis and inflammation.
The active ingredients in turmeric are curcuminoids, which are a group of substances in the plant that offer antioxidant properties. Recent studies support the use of cucuminoids in treating the aforementioned conditions and diseases. These substances act as neutralizing agents to free radicals in the body. Curcumin is a pure natural curcuminoid, which is how the substance is usually labelled. One product on the market that contains such a label is Physician Naturals Mega Curcumin 1100 Time Release.
Included within this review are the details of the products ingredients, dosage recommendation, possible side effects, price and product guarantee.
Ingredients
The manufacturers do not include a full list of ingredients for Physician Naturals Mega Curcumin 1100. They do specify that the product is fluten, diary and soy free and 100% vegetarian.
Dosage
This product is a dietary supplement and it is recommended that 1-2 capsules be taken two times daily for maximum benefit. A health care practitioner should be consulted prior to taking any supplement or medication.
Side Effects
It is recommended that persons that are pregnant or beast feeding or those that have problems with their liver, gallbladder or gastrointestinal problems, do not take this supplement. Other than these conditions, the product is generally safe for long term consumption. There are no listed side effects for this product, but it is recommended that if patients experience a problem whilst taking this supplement, they consult with a doctor immediately.
Price
One bottle of Mega Curcumin 1100 is $ 39.95 for 100 capsules. It is a reasonable price compared to other supplements on the market. If buying the product in bulk quantities, there are discount available such as;
3–9 bottles for $38.75 each
10+ bottles for $37 each
Guarantee
The manufacturers offer a "Five Star Quality Guarantee" for the product, which ensures the products high quality. However, this is not a refundable product satisfaction guarantee. The customer is fully responsible for their purchase and will not receive a refund if they are unsatisfied with the product.
Conclusion Of Our Mega Curcumin 1100 Time Release Physician Naturals Review
As a turmeric supplement the Physician Naturals Mega Curcumin 1100 Time Release is a fairly reasonably priced option. However, it is not the best product available. The lack of product guarantee and no ingredient list make this product a very risky purchase. There are also no available consumer reviews for the supplement and no information on whether it is an FDA approved product has been found.
Bringing you top reviews and product analysis - Consumer Advisors.