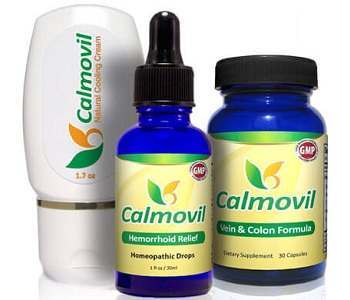 User Ratings (

0

Votes)

0
Hemorrhoids – sometimes referred to as piles – is a common disorder that affects hundreds of thousands of people around the world. There are dozens of treatments and remedies available for this painful and often embarrassing condition. This is our review of Calmovil Hemorrhoid Relief Kit, a treatment which is said to provide relief for the symptoms of both internal and external hemorrhoids.
While most popular hemorrhoid treatments come in a single formulation, the Calmovil Hemorrhoid Relief Kit consists of Calmovil Hemorrhoid Relief Drops; Calmovil Vein & Colon Formula capsules; and Calmovil Cooling Cream.
Ingredients
Calmovil Hemorrhoid Relief Drops is a non-prescription homeopathic medicine. Active ingredients include:
Aesculus hippocastanum – relief of engorged hemorrhoidal veins.
Aloe socotrina –  shrinks protruding, tender hemorrhoids.
Collinsonia Canadensis –  stops aching and itching in the anus and relieves constipation.
Hamamelis virginiana –  prevents bleeding hemorrhoids.
Muriaticum acidum – reduces anal itching and sensitivity.
Nux vomica – relieves hemorrhoids, constipation, and diarrhea.
Paeonia Officinalis – relieves itching, burning hemorrhoids.
Ratanhia – reduces burning pain before and after passing stools.
Sepia – relieves symptoms of rectum fullness.
Sulphur – relieves anal itching and burning.
Calmovil Vein & Colon Formula capsules is a herbal supplement with the following active ingredients:
Rutin – a natural anti-inflammatory bioflavonoid that supports healthy blood vessels.
Diosmin – an anti-inflammatory bioflavonoid that protects veins.
Hesperidin – improves the health of fragile capillaries and connective tissue, also with anti-inflammatory properties.
Horse Chesnut – contains Aescin which helps to strengthen and tone veins and reduce swelling.
Bilberry – improves circulation and blood flow.
Camomile – stops irregular bowel movement; relieves stress and anxiety and contains an antihistamine that prevents itching.
Plantain – relieves itching and swelling.
Natto Extract – supports proper blood flow.
Butcher's Broom – an anti-inflammatory that constricts, strengthens, and tones blood vessels.
Calmovil Cooling Cream is a botanical, herbal cream containing Witch Hazel, Chamomile, Sage, Yarrow, Green tea extract, Lupine, Peppermint and Aloe Vera to calm irritated tissues, soothe burning and itching and help to reduce swelling and pain.
Dosage
Take one Calmovil Vein & Colon Formula capsule daily and apply the Calmovil Cooling Cream topically up to four times a day. We were unable to find any information about the optimal dosage for the Calmovil Hemorrhoid Relief Drops.
Possible Side Effects
The natural extracts of plants and herbs in the Calmovil products are generally considered safe. However, avoid the products if you are pregnant or breastfeeding and do not take the capsules if you are using blood-thinning medication such as Warfarin, or if you have a bleeding disorder.
Price
The most cost-effective option for purchasing the products is to buy the full kit at $249.95 for a three-month supply ($169.95 for two months; or $99.95 for one month).  However, if you have a one-month supply shipped to you automatically every month, you will pay only $79.95 per month.
Purchasing the individual products is more expensive:  a one-month supply of Hemorrhoid Relief Drops costs $37.95; Vein & Colon Formula capsules costs $47.95; and Natural Cooling Cream costs $17.95 – a total of $103.85.
Another benefit of purchasing the full kit is that, for a limited period, you will receive a $19.99 eBook "20 Tips for Healing Hemorrhoids", free of charge.
Guarantee
There is a 60-day full money back guarantee for customers who do not experience a "significant" improvement.
Conclusion of Our Calmovil Hemorrhoids Relief Kit Review
Calmovil Hemorrhoids Relief Kit is a complete solution for anyone suffering from hemorrhoids. There are three different products formulated to address different symptoms of hemorrhoids or piles, but there is some cross-over between the products. However, none appear to be specifically formulated to shrink the hemorrhoids. If you buy the full kit, you could find yourself using up the different products at different rates, and then having to purchase the (more expensive) products individually.
Bringing you top reviews and product analysis - Consumer Advisors.