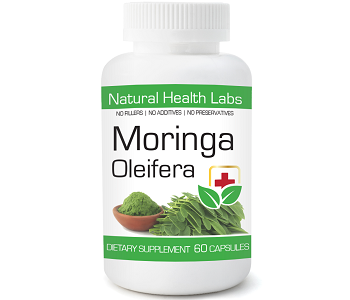 User Ratings (

0

Votes)

0
Today we review Natural Health Labs Moringa dietary supplement. Moringa is widely known for its variation in medicinal properties when it comes to aiding and supporting your health. More specifically, Moringa is loaded with anti-inflammatories, antioxidants, minerals, and vitamins. Moringa claims to boost your metabolism thereby supporting weight-loss. Moringa also claims to aid your immune systems thereby keeping diseases like diabetes at bay. Your skin and nails may also benefit from the nutritional properties that can be found in Moringa. To have a better understanding about Natural Health Labs Moringa, read our review below.
Ingredients
The primary ingredient found in this supplement is 800mg of Moringa Oleifera. The Moringa powder is made from the Moringa leaf. The Moringa tree is sometimes referred to as the tree of life because of its many medicinal uses. The capsule is composed of purified water and cellulose.  Compared to other products on the market, the dosage of this product is not that competitive.
Dosage
It is advised that only two capsules should be taken per day. One capsule should be taken in the morning and also one at night. They, unfortunately, do not advise if you should take the capsule on an empty stomach or with food.
Possible Side Effects
There are no side effects listed. It is advised to not exceed the recommended daily dose and that pregnant women, nursing mothers, and children under 18 should consult a physician before taking this supplement.
Price
This product comes in a range of prices. For one bottle of Moringa, you will pay $20.05. If you want to buy in bulk you will be charged less. Buying 4 or more bottles will cost $10.05 per bottle, and buying 12 or more bottles will cost $7.45 per bottle. Free shipping is only applicable to orders that are over $500 in the USA. This means it can turn out quite expensive if you want to only buy one bottle to test out the product.
Guarantee
Natural Health Labs do offer a guarantee for products purchased within the last 90 days. No refunds will be given for a product that is received beyond the eligibility date. Another important fact to note is that all returns valued at $500 or more shall be subject to a 20% restocking fee. This means that if you want to buy enough products to guarantee free shipping you may not be fully refunded if you are not satisfied with the products that you bought.
Our Conclusive Review About Natural Health Labs Moringa
This product is quite favorable if you are looking to boost your health and your digestive system. We like the fact that it is packed with anti-inflammatories and antioxidants and that it is one of the best superfoods available. We are disappointed that they do not hold up against other products on the market when it comes to the dosage of Moringa in this product. We also find their return policy lacking which shows that they are maybe not as confident in their product as they claim to be.
Bringing you top reviews and product analysis - Consumer Advisors.