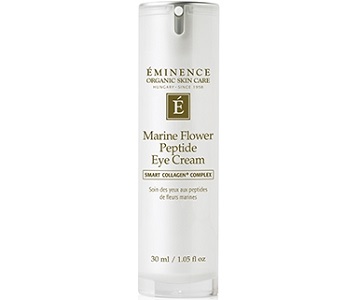 User Ratings (

0

Votes)

0
Amino Acids are the building blocks of collagen, which is responsible for keeping skin firm. These short chains of amino acids are made of proteins and active molecules, in turn. They are called peptides. So essentially, peptides are the ultimate building blocks of collagen. Therefore, with a name like Marine Flower Peptide Eye Cream, this award-winning eye cream by Eminence is immediately intriguing because it speaks to the kind of hard-hitting ingredient that could firm up lines and wrinkles around the eye area. Treating this area with its delicate skin can be quite challenging. Annoyingly, it is often the first area to give away your age. Let us embark on a review of this eye treatment.
Ingredients
The key ingredients are the following:
Peptides from rice protein
Red algae extract
A collagen and amino acid complex
Clearly, the collagen and amino acid complex along with the peptides from rice protein, provide fortification to your skin. Collagen keeps skin firm and plumps it up which smoothes out wrinkles to a large extent. We are happy to see algae extract, as these are rich in anti-oxidant qualities. They will defend cells against aging and kick-start the cells' own repair processes. Hyaluronic Acid is a superior natural form of moisturization and hydration. It provides and retains hydration better than any other compounds.
The formula makes a good start but doesn't go far enough to fight under-eye dullness via Vitamin B5, to stimulate collagen long-term via Vitamin E or to robustly undo aging to an even greater extent through alpha hydroxy acids. These are of the most important ingredients that have been clinically shown as 'must-haves' around the eye area.
How To Use
Apply it gently to your eye area twice a day. Pat down gently.
Price
The product is not available on the product website and this poses an inconvenience. You have to obtain it from an Eminence spa. We did, though, find the cream retailing online for between $73 and $200. This disparity in price is due to the fact that some resellers are not selling the authentic product, which Eminence does warn consumers about. The challenge is that it is not even clear if you are obtaining the authentic product on Amazon. Consumers have flagged this as a concern, but at the time of compiling this review, there were no clear answers.
Guarantee & Feedback
We found no proof of a guarantee or returns policy despite searching. This adds to both the risk and inconvenience factor around this product. It tends to be rated fairly highly by consumers, although about 20% of consumers say that it does not improve their under-eye area.
Our Conclusive Review About Marine Flower Peptide Eye Cream
Peptides, collagen, Hyaluronic Acid, and algae extracts – these are definitely good base ingredients to include in an eye cream. On the other hand, there are several concerns. It is hard to physically get hold of the product and when you buy it online, you are not assured it is the real deal. It is lacking must-have ingredients as clinically proven: Vitamin B5, alpha hydroxy acids, Vitamin E, Alpenrose, and Passionflower to name a few. The product is pricey so we would have expected to see a wide-ranging formulation including all clinically required ingredients to tackle every aspect of the challenging eye area. We also expected to see at least five patented ingredients, as that is the gold standard. Patents ensure you receive the most viable form of ingredients, designed to be the most active forms for maximum impact. By contrast, Eminence seems to have one patented ingredient which is used right across its range of products. The stakes are high when it comes to your eyes and particularly in this price range, we would advise you to settle for nothing less than a product that meets all the clinical criteria, not only some.
Bringing you top reviews and product analysis - Consumer Advisors.