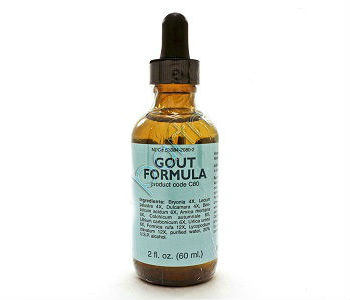 User Ratings (

0

Votes)

0
Prof. Complementary Health Formulas Gout Formula is a homeopathic remedy that has the ability to manage the amount of uric acid the body produces and how the body retains this acid. This product offers relief from gout symptoms so that patients are able to live a more pain-free lifestyle.
Ingredients
Arnica Montana 6X – Helps speed up the healing rate of joints affected by gout.
Benzoicum acidum 6X – Minimizes joint pain brought on by gout.
Bryonia 4X – Anti-inflammatory that aids in the reduction of pain and swelling.
Colchicum autumnale 6X – Decreases pain in joints that is often associated with gout and makes them less sensitive to the searing hot pain that many patients struggle with.
Dulcamara 4X – Helps to remove stiffness from the joints so that movements feel more effortless.
Formica rufa 12X (crushed live ants) – Helps to relieve muscle and  joint pain, offers a reduction in swelling, and  makes the urination process easier and less painful
Ledum palustre 4X –  Reduces inflammation and swelling associated with gout.
Lithium carbonicum 6X – Successful in managing gout and rheumatic pain
Lycopodium clavatum 12X – Helps to maintain the digestive and excretory systems so that they stay healthy. Decreases the production of uric acid and improves its expulsion from the body during urination.
Urtica urens 6X – Assists in minimizing joint swelling while reducing redness as well as other signs of inflammation.
Purified water
20% USP alcohol
Dosage
The suggested dosage of this product calls for taking 2ml of this supplement bottle mixed with water. Each bottle of this supplement contains 60ml which typically is a full month's supply.
Side Effects
Although all ingredients used in this homeopathic remedy are natural, a few of them are known for having the potential to cause certain side effects. Lithium carbonicum, for example, can cause upset stomach, pain during urination, irregular menstrual cycles, vision impairment, as well as rashes and skin eruptions. Some patients have also experienced irritation or a drying of the mucous membranes. Patients who experience any of these problems or are currently taking other medications should consult with their doctors before beginning this gout treatment.
Price
The retail cost for one bottle of this supplement is $14, but there are also reduced prices of this product available online for $12.60.
Guarantee
Even though the ingredients used to make Prof. Complementary Health Formulas Gout Formula are ones commonly found in many homeopathic medicines, the company does not offer any guarantees as to the quality or effectiveness of this supplement used for treating gout symptoms. There are no refunds if consumers are dissatisfied with the results of how this product works for them.
Conclusion Of Our Prof. Complementary Health Formulas Gout Formula Review
Although this homeopathic product is derived from natural ingredients, those ingredients do not come from plants. It is important to note that the chief ingredient used in this product is pulverized ant, which in some case may cause an allergic reaction in some people and in addition may be found to not be acceptable for consumption by vegetarians. The individual ingredients have been known to be good in assisting with gout symptoms and the price for this product is a reasonable one.
Bringing you top reviews and product analysis - Consumer Advisors.