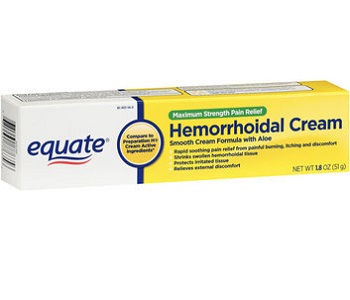 User Ratings (

0

Votes)

0
Today we review Hemorrhoidal Cream manufactured by Equate. Hemorrhoidal Cream claims to provide rapid soothing pain relief from burning, itching or any discomfort caused by hemorrhoids. This product also claims to actively shrink swollen haemorrhoidal tissue whilst also protecting the skin from future damage. If you have hemorrhoids then you know the negative effect they can have on your day to day life. Sometimes they occur because of extra stress put on your rectal area and other times they occur seemingly without cause, but the important thing is to treat them as soon as you can. If you would like to learn more about this product, read the rest of this review below.
Ingredients
Phenylephrine
White Petrolatum
Glycerin is used to treat constipation and can help to lubricate the anal canal internally and externally. Phenylephrine temporarily helps to relieve swelling, burning and pain. It can also provide relief for itching. This ingredient works by temporarily narrowing the blood vessels in the area. White petrolatum helps to instantly soothe the affected area and may be used both internally or externally.
Dosage
It is recommended that you cleanse and dry the area thoroughly before applying this product. Apply the product externally or in the lower portion of the anal canal only. You can apply this product up to four times daily, preferably after bowel movements.
Possible Side Effects
Stop using this product if swelling, redness, an allergic reaction or irritation occurs. Stop using this product if you notice any bleeding and go speak to your doctor immediately. Also, consult your doctor if you are pregnant or nursing before using this product. Keep out of reach of children.
Price
You can buy this product on Amazon for $7.20 for 1.8 Oz of cream. Currently, there are no special offers or coupons available for this product. This price also includes free shipping
Guarantee & Feedback
Amazon usually has a 30-day money back guarantee on most of its products. Some of the retailers on Amazon have their own guarantee policies so it's best to double check before buying this product. Reviews regarding this product are varied with some people stating that it offered some relief and others stating that it actually made their problem worse. A lot of the people who ordered this product online also complained that their whole package arrived crushed.
Our Conclusive Review About Equate Hemorrhoidal Cream
We like that this product incorporates active ingredients that offer relief on multiple levels. We also like that this product can be applied externally and internally thereby making sure that all areas are covered. However, we feel that this product does not offer long-term solutions to a very irritating problem. After reading some of the negative reviews, we also do not feel very confident that this product can deliver on its promises. Although this product does make its active ingredients known, we still do not know what the rest of the ingredients are. This can be problematic when it comes to sensitive consumers who might be allergic to some of the unknown ingredients.
Bringing you top reviews and product analysis - Consumer Advisors.