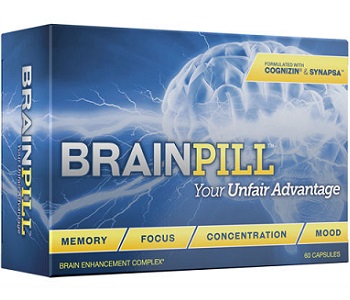 User Ratings (

0

Votes)

0
If you didn't know you can take a supplement to improve your memory, recall and processing, you know now. Brain Pill claims to make you think faster, focus longer, and remember more by adding one capsule per day to your routine. Its slogan, "your unfair advantage," sounds promising. Read our review of the effectiveness and usefulness of the ingredients of this product.
Ingredients
In this one tiny capsule, there are 13 active ingredients, including vitamins and amino acids that all work to improve your brain. Avoid any brain fog and memory loss by taking this supplement. Some ingredients that help improve your brain function, keep it sharp and helping you feel calm are:
vinpocetine
L-theanine
DHA
vitamin B6
vitamin B12
folic acid (vitamin B9)
These ingredients work together to help raise your mood and help you if you feel stressed. They also can prevent future cognitive decline, which can start from the age of 30.
Although many other brain supplements contain the exact same ingredients, there are two key ingredients that this supplement is lacking: hypericum, or St. John's wort, and bacopa monnieri. St. John's wort has a therapeutic benefit of limiting depression symptoms like drops in your mood and sudden shifts of energy. Bacopa monnieri is a mouthful, but essentially it boosts your memory while reducing anxiety. These two ingredients have a whole-body approach that helps a customer feel great as well as assist a person to remember more throughout the day.
Dosage
The recommended dosage for the Brain Pill is twice a day with a full glass of water. It specifies to take one pill in the morning and one in the afternoon for best effects and is best when taken with food. Taking a brain supplement twice a day is standard, but there are other supplements that contain a higher percentage of each ingredient, which result in better brain function.
Price
One box containing 30 capsules costs $79.99 plus $29.99 for shipping and handling. It is advantageous to buy in bulk as you save more on each bottle. For example, with the purchase of 3 bottles, each box costs $73, helping you save $20.00 in total. If you buy a six month supply, you can save as much as $80. This is expensive for brain supplements as other supplements on the market cost half as much for one bottle.
Guarantee & Feedback
There is a 67-day guarantee on two bottles if a customer unsatisfied with the product. it is also specified that there is no need to return full or unused bottles; empty bottles can be returned for a full refund as long as it is within the guarantee. This is helpful and helps customers feel better when purchasing new supplements. 60 days is a long time, but we do know of other companies that offer 90 days and even a full year guarantee on their products.
Our Conclusive Review About Leading Edge Health Brain Pill
The long list of ingredients for this supplement is not just to look good; there are essential amino acids and vitamins that help your brain function the best that it's ever worked. There is also a great, reliable guarantee for up to 67 days to return used or empty bottles if a customer is unhappy with results. However, the high price and lack of mood-boosting ingredients make this product less appealing. There are other products available that think of your overall mental health and function instead of just focusing on improving your memory.
Bringing you top reviews and product analysis - Consumer Advisors.