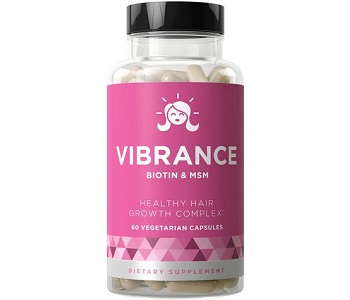 User Ratings (

0

Votes)

0
Today we review EU Natural Vibrance Healthy Hair Vitamins.  With 23 vitamins and minerals, including biotin, this supplement helps to revitalize hair growth from within.  This is an all natural way to help stop thinning and hair breakage to give your hair the voluminous look you've always wanted.
Ingredients
This formula has a long list of vitamins and minerals along with a Vibrance Healthy Hair Complex that are all known to have a positive effect on hair growth.  While biotin is a listed ingredient, we know that the ultimate dose of biotin for healthy hair growth is 10,000 mcg, while this formula only contains 5,000 mcg per serving.  While the other vitamins and minerals may make up for the lack of biotin, this supplement may not be fully effective if the amounts of different ingredients are off.
Dosage
The recommended daily dose for this product is to take two capsules once per day.  The dose should be taken with a meal and at least 8 ounces of water. The manufacturer also states that it could take up to 8 weeks of continued use before you begin to see the results you are looking for.
Possible Side Effects
While the company lists no side effects, we found many by looking at customer reviews.  Many customers said they started to break out in acne within days of starting this product.  Others said this product caused such bad gas that they could not leave the house. Some stated that even when taking this supplement with food, it caused such bad stomach discomfort they needed to stop taking the supplement right away. As there were many reviews that mentioned these different side effects, it is concerning that the manufacturer does not list them on their website so that you can know exactly what you are buying.
Price
The manufacturer's suggested retail price for this supplement is $39.99 for a 60 count bottle, but if you buy direct from their website, it only costs $29.99.  Orders over $40 are entitled to free shipping. Also, if you decide to subscribe to their auto-shipment plan, you can save 10% off of the price. You should be wary, however, of these plans, as they can be extremely difficult to cancel, and they store your credit card information, making it easy for the company to continue to charge your card, even if you have tried to cancel the subscription.
Guarantee & Feedback
The manufacturer does offer a 90 day money back guarantee on up to 3 bottles, full or empty.  To begin the refund process, you must go through their contact page. After you have returned your item, you should see a credit to your account within 7 business days.
Our Conclusive Review About EU Natural Vibrance Healthy Hair Vitamins
There are a few things we liked about EU Natural Vibrance Healthy Hair Vitamins.  Their formula does include many vitamins and minerals to help with your hair growth.  They also have a good money back guarantee in case you do not like the product.
We did, however, find many red flags regarding this product.  The amount of biotin present in these capsules was lower than the optimal dose.  Also, it can take up to two months of taking this supplement before you begin to see results.  Lastly, there are many reported side effects that the company does not acknowledge on their website.  For these reasons, we cannot recommend this product to help stop hair loss.
Bringing you top reviews and product analysis - Consumer Advisors.