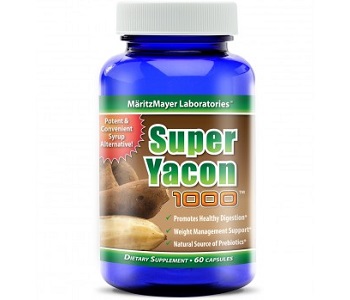 User Ratings (

0

Votes)

0
Yacon Root is a plant that is native to South America and has been consumed in its raw form for centuries to suppress appetite during times of hunger. Only recently it has been recognized for its appetite suppressing and metabolism boosting properties which can lead to weight loss. Once this discovery was made, manufacturers rushed to make their own versions of Yacon Products. While some are worthwhile, others aren't. This review is going to take a closer look at MaritzMayer Laboratories Super Yacon. The manufacturer claims that their Yacon Root supplement can support healthy digestion, weight management and is a good source of prebiotics.
Ingredients
The only ingredient in this supplement is Yacon Root. Yacon Root contains a high amount of fructooligosaccharides or FOS that are sugar molecules which pass through the system mostly undigested. The FOS reach the large intestine where they feed the good bacteria. They are also believed to lower the hunger hormone, ghrelin, which results in a decreased appetite.
Dosage
MaritzMayer Laboratories recommends taking one capsule, twice daily. You should take it half an hour before meals with an 8 oz glass of water. They advise against exceeding the dosage.
If you are pregnant, nursing, under the age of 18 or if you have a known medical condition, you should consult with your doctor before taking this product.
Possible Side Effects
There are no side effects listed on the manufacturer's website. Through our research we were able to find common mild side effects associated with consuming high dosages of Yacon Root Extract include bloating, cramps, gas, nausea, and diarrhea.
Price
The manufacturer is not forthcoming about the price. You must send them a request in order to receive a price quote.
Guarantee & Feedback
MaritzMayer Laboratories will issue a return for all used and unused products that are in good condition. They do not say how much time you have to return the product in order to receive a full refund. We recommend contacting the manufacturer to clarify what their up to date policy is. There are nearly no consumer reviews available about this product. The few reviews we did see are negative. Consumers claimed that this product is weak and they did not experience any effects after taking this supplement continuously.
Our Conclusive Review About MaritzMayer Laboratories Super Yacon
This product appears to be decent. It comes in easy to swallow capsules and offers a decent dosage of Yacon Root Extract per capsule. However, there is simply not enough information to make a determination about whether or not this is a worthwhile product. The manufacturer goes into detail about its own attributes but does little to explain the risks and benefits of their own product. In order to find out the price, you must fill out a request form. There are also a very limited amount of consumer reviews but the ones that we did see are negative. Consumers claim that after they followed the manufacturer's recommended dosage, they did not experience any weight loss. Taking all of these factors into consideration, this product is too risky to rely upon to see real weight loss results.
Bringing you top reviews and product analysis - Consumer Advisors.