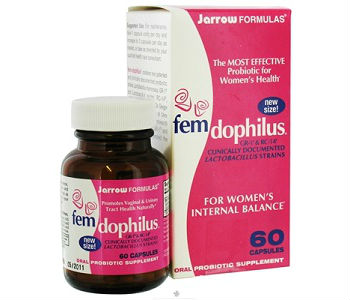 User Ratings (

0

Votes)

0
Jarrow Formulas Fem-Dophilus is a product that helps to counteract the problems associated with yeast infections and bring back the body to a healthy state. While topical treatments may help to resolve feminine itching, swelling, and burning, they do nothing for treating the problem inside the body. Health care providers often prescribe topical treatments to women, but if the problem persists, usually a regimen of antibiotics and other medications follow. We decided to research oral probiotics like Jarrow Formulas Fem-Dophilus to see what reviewers who have taken this supplement feel as to how well this product really works to prevent yeast infections and inhibit their recurrences.
Ingredients
This product is an oral medication that is in a capsule form. Every capsule includes a probiotic blend of 5 billion viable cells that come from valuable cultures that are beneficial in restoring a healthy microflora balance within the body. The formulation in this supplement contains the following:
Cellulose and Magnesium Stearate
Dextrose anhydrate
Lactobacillus reuteri
Lactobacillus rhamnosus
Potato starch
Capsule is composed of gelatin and titanium oxide.
Dosage
It is suggested that users take 1 capsule each day. If necessary, the dosage can be increased to 2 capsules each day or as otherwise prescribed by a health care provider or nutritionist.
Side Effects
There are no known side effects that stem from taking this product. It is a good idea to consult your primary health care provider before beginning this regimen if you are pregnant, nursing, or taking other medications. If you are suffering from a current medical condition, it is also wise to consult your physician to make sure that the ingredients in this supplement are not going to clash with the medication or treatments that your physician has already prescribed.
People who suffer from lactose intolerance need to be aware that this product does contain dairy in the form of trace amounts of casein. However, this supplement does not contain any egg, gluten, fish, shellfish, soybeans, tree nuts, or peanuts.
Price
The cost of this supplement varies in price depending on where you purchase the product. There are a variety of online supplement shops that offer this supplement for about $20, which is a savings of 24% off of the normal retail price. Each bottle of this supplement includes 30 capsules, which means that if you follow the recommended dosage instructions, you are going to spend about 60 cents per day to keep your body healthy.
Conclusion Of Our Fem-Dophilus Jarrow Formulas Review
Jarrow Formulas Fem-Dophilus is a supplement that has an excess of 25 years of research and clinical studies behind its product. People who reviewed this product found that it is ideal for freeing the body from infections and that it also was effective in keeping probiotic levels within a healthy balance in the system. Even so, this formulation is not as strong as other products on the market.
Bringing you top reviews and product analysis - Consumer Advisors.