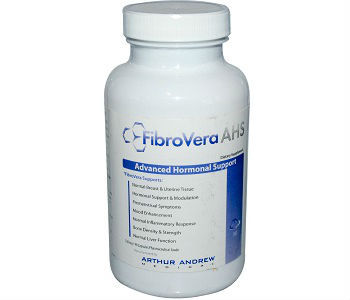 User Ratings (

0

Votes)

0
Fibrovera AHS is a natural, organic supplement made from plant based components which are vital in regulating hormone levels in the female body. The Coenzyme Blend is a vital source of magnesium and calcium, which are necessary for keeping bones strong and also give relief to muscle pain and cramps. The Liver Cleansing Blend ensures that the liver is functioning properly and assists in blood detoxification. Furthermore, it eliminates the waste toxins contained in hormones from the body.
Hormonal Support Blend stimulates hormone regeneration to restore the depleted levels in the body. It also relieves menopausal symptoms such as sleep irregularity, anxiety, depression, lethargy, etc., and energizes the body. Fibrinolytic Enzyme Blend are vital in eradicating fibrin in the body. Hormonal changes developing in the body result in excessive fibrin production, which the fibrinolytic enzymes help dissolve.
In addition, Fibrovera alleviates a host of other symptoms such as mood swings, brittle bones and liver
Ingredients
Fibrovera AHS typically contains the following ingredients:
Cofactor Blend: Magnesium Ammoniate, Calcium Caprylate
Fibrinolytic Enzyme Blend: Protease, Serrapeptase, nattokinase, papain, bromelain.
Liver Cleanse: dandelion root, Hyssop flowers, Milk Thistle
Estromin Hormonal Support blend: GLA (Gamma-Linolenic acid), PSP (Pyridoxal-5-Phosphate), 5HTP, DIM (Diindolemethane), DHEA (Dehydroepiandrosterone) Dong Quai root (Angelica sinensis).
Inactive Ingredients: Maltodextrin, Cellulose.
Dosage
The recommended dosage is one or two capsules taken in between meals supplemented by water. Taking supplements between meals reduces complications related to stomach and the rest of the digestive system. Water is also essential while taking supplements as there is a chance the body suffers from dehydration.
Side Effects
While Fibrovera does not leave any side effects as a food supplement, it is not suitable for women taking anti-coagulants, and pregnant or lactating mothers. The rest of the women may take them without any apprehensions.
Price
Each bottle containing 90 capsules is available at a price of $69.99, whereas the bottle containing 180 capsules is priced at $129.99. Thus, the estimated monthly cost of Fibrovera is approximately $23.33 which is quite reasonable. The drug is not very expensive but is not very cheap either.
Guarantee
The company, Arthur Andrew Medical, has a strict no return policy for used or opened products. However, there is a complete refund for unsealed products retuned within a month of purchase.
Conclusion Of Our Arthur Andrew Medical Fibrovera AHS Review
With Fibrovera AHS's combination of multiple energizing blends, Fibrovera is quite a useful and effective cure for menopausal symptoms. It is very helpful in balancing the reduced levels of hormones in the system and helps in keeping women healthy during this difficult stage. Also, this supplement is quite reasonably priced. Its price is at an equivalent level with other popular supplements. The drawback with Fibrovera is that it is not 100% natural as some of the enzymes and bacteria have been artificially engineered. Furthermore, there is no money back policy on used products, so you may find yourself in trouble if you have opened the product and have not found it to be suitable to your requirements or expectations.
Bringing you top reviews and product analysis - Consumer Advisors.