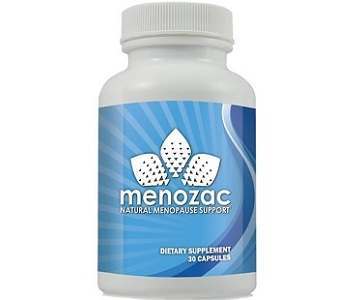 User Ratings (

0

Votes)

0
All women undergo menopause during which they experience symptoms associated with the change in hormone levels and fertility. Although this process is absolutely normal, the symptoms can be very uncomfortable and greatly affect a woman's life in general.  This is where different supplements comes in to help regulate and reduce these conditions.
The following comprehensive review looks in detail at Menozac. This product is a formulation of natural ingredients, including various herbal extracts which the company says are phytoestrogen botanicals. The manufacturer claims Menozac relieves menopausal symptoms, from onset and throughout the duration of typical menopause. The symptoms includes hot flashes, anxiety, urinary changes, bloating, night sweats, mood swings and vaginal dryness.
Ingredients
This product contains Vitamin E in the form of Alpha Tocopheryl Acetate and a proprietary blend of herbs which includes soy, black cohosh and damiana. Vitamin E is a popular fat soluble vitamin that is highly regarded as a powerful antioxidant. According to the product's website, there were studies conducted almost 6 decades ago that show correlation between vitamin E and the reduction of hot flashes and vaginal dryness in women. The proprietary blend of herbs is said to reduce other menopausal symptoms, relieve anxiety and regulate estrogen levels.
Dosage
After carefully researching the product's website, we were not able to find any information about the supplement's dosage. This makes it very hard to determine how an individual should take the product and for how long you should be taking it before you can expect results.
Price
Menozac was available for purchase from the manufacturer's website at the time of our review for $49.95 for a 30-count container. If you buy $50 or more worth of product you receive free shipping. Menozac was listed on Amazon when we were researching this review but was out of stock and therefore its Amazon price was not showing.
Guarantee and Feedback
This product is under the company's 30-day money-back guarantee but the process to get a refund is not the simplest. First you need to call customer service and inform them the you are not experiencing the promised effects of the product, within 7 days of use. The company will then try to customize your program with its product. Second you need to make sure that the product is complete, as only complete products are refundable (although the company doesn't make clear what "complete" means in this context).
This product does not have enough Amazon feedback to conclude anything about the effectiveness of the product for those who have used it.
Our Conclusive Review About Menozac
The product's website was able to show us the complete list of ingredients which makes it easier to have an idea what we're taking in when we use this product. The product also contains an adequate amount of Vitamin E that will surely help improve general health. But the study that support Vitamin E's claims are old (1940's); more recent studies or research would be helpful. The lack of dosage information seems like an obvious oversight to correct and the return policy is less than convenient and doesn't seem to allow new users to try the product risk-free in terms of price. Finally, that price is at the high end of menopause supplements.
Bringing you top reviews and product analysis - Consumer Advisors.