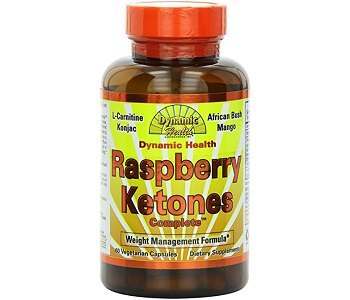 User Ratings (

0

Votes)

0
With our fast-paced lifestyles and the emergence of so many fast food places, obesity rates have risen drastically. It is believed that most Americans are either overweight or obese. With the increase in these rates, it is no surprise that so many companies have launched different products all claiming to help with weight loss. One kind of weight loss product is those made from raspberry ketones. This review will take a look at the product Raspberry Ketone Complete by Dynamic Health. This product claims to be made with clinically tested herbs that are well-known for their weight loss properties and also for boosting overall well-being.
Ingredients
Raspberry Ketones Complete contains 250mg of raspberry ketones per serving which is two capsules. This dosage is lower than some other supplements that contain 1000mg of raspberry ketones. Raspberry ketones work by burning fat faster by increasing metabolism and also blocking the absorption of new fat. The manufacturer may be wanting to boost the effects of the raspberry ketones by adding a blend of other ingredients, though this is not clear. The other ingredients include African bush mango, green tea extract, Glucomannan, baobab extract, acai berry, resveratrol, L-Carnitine, apple cider vinegar, Garcinia Cambogia, bitter melon extract, Nopal cactus fruit, chromium picolinate, cascara sagrada, dandelion root and uva-ursi extract. The combination of ingredients may detract from the benefits of the raspberry ketones. They may also increase the risk of side effects.
Dosage
It is recommended to take two capsules once or two times a day with water. It is not clear when you should take two capsules a day and when you should take four.
Possible Side Effects
This product contains cascara sagrada which is a gentle laxative and may result in certain side effects. You should not take this product if you have diarrhea or stomach pain as cascara sagrada can worsen it. If you develop these side effects then you should stop using this product. You should not take this product if you have difficulty swallowing.
Price
This product is sold through various third-party retailers. We were not able to find it available at any online stores and it may have been discontinued. We found the price for 60 capsules for about $15.
Guarantee & Feedback
We did not find any money-back guarantees from the manufacturer backing up this product. This is unfortunate when there are so many manufacturers who do. The customer reviews we found for this product had quite a few positive reviews, but also quite a few negative reviews claiming the product did not work at all.
Our Conclusive Review About Dynamic Health Raspberry Ketones Complete
This product contains a range of herbs that are known for their weight loss benefits. These may boost the effects of the raspberry ketones or they may not. The manufacturer has not provided information about why these ingredients are best to work together. The inclusion of cascara sagrada is worrisome as this is generally an ingredient that should not be taken long-term. It can also result in some serious side effects and be potentially dangerous. We think there are safer alternatives on the market that have been proven to be effective and that also come with money-back guarantees.
Bringing you top reviews and product analysis - Consumer Advisors.