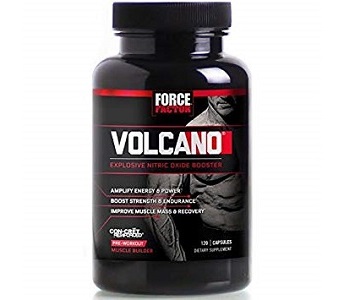 User Ratings (

0

Votes)

0
Nitric Oxide supplements promote the production of Nitric Oxide in the body which increases blood flow for an enhanced workout. In this review of Force Factor VolcaNO, we assess the product's ability to deliver on claims that it improves strength, boosts energy and builds lean body mass.
Ingredients
Vitamin B6
Agmapure
Agmatine Sulfate
L-norvaline
Creatine HCI
L-methionine
L-glycine
This product contains a range of ingredients that are beneficial to a Nitric Oxide supplement. Ingredients such as L-citrulline and Vitamin B6 increase blood flow and improve energy production. Additional ingredients aid in this product's ability to build lean body mass. However, this product lacks several ingredients that can be found in competitor products. These include Beetroot and L-arginine Ketoglutarate. These ingredients maximize a Nitric Oxide supplements ability to improve physical performance.
Dosage
The manufacturer provides clear instructions on how to use this product for best results. This gives consumers peace of mind regarding how to optimize their use of the product. It is recommended that on workout days adults consumer 2 – 4 capsules in the morning with food and 2 – 4 capsules 30 minutes prior to exercise. On non-workout days adults should consume 2 – 4 capsules in the morning with food and 2 – 4 capsules in the evening with food. This dosage provides sufficient quantities of the included ingredients and should prove beneficial.
Possible Side Effects
The use of Nitric Oxide supplements has a number of negative side effects that should be monitored. However, individual tolerance to this product varies and this may only be assessed after a purchase has been made. Side effects to be expected include dizziness, headaches, and stomach pain. Ensuring that this product is used as intended will minimize the impact of these side effects.
Price
A 120-capsule bottle of this product can be purchased via Force Factor's online store for $69.99. This is very costly when considering that the lifespan per bottle is 15 days. The long-term use of this product would become extremely expensive and consumers should consider more affordable options on the market. The manufacturer does not offer any additional discounts or bulk-buy deals which limits the purchasing options available to you.
Guarantee & Feedback
The manufacturer offers a money-back guarantee on this product, however, the stipulation was difficult to find. This makes it difficult for consumers to find out more information regarding the return policy. While this policy is in place, the lack of clear articulation makes it difficult to determine how seamless a return process would be. Several negative customer reviews have surfaced online which indicate the product's inability to produce desired results. Consumers have reports that this product failed to deliver improved physical performance during workouts.
Our Conclusive Review About Force Factor VolcaNO
This product contains a variety of beneficial ingredients that can increase blood flow for improved workout performance and build lean body mass. The inclusion of a guarantee bodes well for the efficacy of this product. That being said, the costly price would make the long-term use of this product extremely expensive. That combined with the many negative customer reviews suggest that this product is not a reliable Nitric Oxide supplement for improved workouts. We recommend seeking an alternative product for optimal results.
Bringing you top reviews and product analysis - Consumer Advisors.