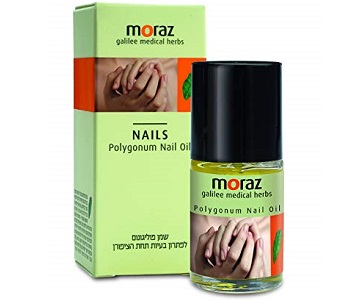 User Ratings (

0

Votes)

0
Moraz Polygonum Nail Oil according to them is a protector that contains sage, myrtle and wormwood to rehabilitate your damaged cuticles, cracked nails and under your nail skin problems.
According to them the oils, active ingredients penetrates deeply into your skin and nails to assist with the growing of healthy nails, while acting as an anti-bacterial and anti-fungal agent to eliminate and prevent fungus from forming under your nails.
When it comes to customers who have made use of the product there is little available on reviews and feedback regarding the product, so we decided to investigate this treatment to find out if it will cure fungal infections.
Ingredients
The oil is available in a round bottle that looks like a nail polish container and comes in a green olive colored box with an image of hands on them. The bottle contains 14 ml or 0.48fl.oz fluid.
Looking at the ingredients we found the following:
Jojoba Seed oil is used as a healing agent for skin ailments
Fragrance
Phenoxyethanol
Methylparaben
Ethylparaben
Propylparaben
Butylparaben
No advised information is provided as to what each ingredient does to ensure that it helps with the cure or prevention of fungal infections.
Dosage
According to the Israeli company it is advised that you apply the oil to your nails three times a day, while massaging it in. It is suggested that you wait 30 minutes, before wetting the applied area.
The product should be used for 3 to 6 months to eliminate fungus and prevent it from coming back.
Price
The oil treatment can be bought directly from the supplier's retail site for $32.99 or a 12 month supply for $359.99. One bottle of Moraz will provide you with a month's supply.
The product is also available from Amazon for $14.99 that is cheaply priced.
Guarantee
No guarantees could be seen on the manufacturer's retail site, and if you are a customer who is thinking of buying this product, it will be safer contacting them and enlighten your concerns regarding the product if you are not satisfied with the use of it.
No visible reviews or ratings could be found by users who have bought the product except for one on the supplier's web site.
Conclusion Of Our Moraz Polygonum Nail Oil Review
The lack of customer feedback and guarantees is a concern as many future clients rely on other users who have used the product when it comes to being reliable or not.
Bringing you top reviews and product analysis - Consumer Advisors.