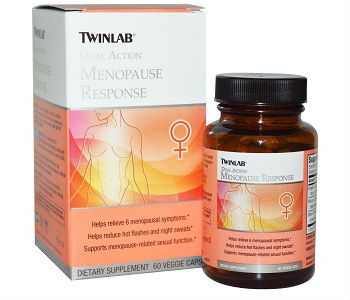 User Ratings (

0

Votes)

0
This supplement is a natural, herbal formulation that gives a dual relief and support to symptoms of menopause. It assists in alleviating distressing effects like night sweats, anxiety, nervousness, hot flashes, mood swings, restless and disturbed sleep, vaginal dryness and lack of concentration. The product also aids in sexual functioning. This makes the product a wholesome menopause relief product that works on all aspects of the ailment.
Ingredients
Black Cohosh (Cimicifuga Racemosa) Root: This root extract contains natural, plant-based estrogens called phytoestrogens which are beneficial in restoring hormone levels in the body. It also alleviates some common menopausal symptoms. Black cohosh root is an ideal and natural substitute for hormone therapy in regulating low hormone levels.
Maca (Lepidium Meyenii) Root: A rich source of important nutrients and minerals that the body requires for effective functioning of the heart and mind and for strengthening bones.
Hops (Humulus Lupulus) Cone Extract: A source of plant-derived estrogens which helps in restoring and adjusting the decreased levels of estrogen in the body.
Other Ingredients:

Hydroxypropyl Methylcellulose
Silica
Rice Flour
Medium Chain Triglycerides
Magnesium Stearate
Dosage
The ideal dose is one tablet two times a day. You are advised to consult a physician who can guide you as to what is the best dosage for your individual condition. Using health supplements should be complimented with a healthy diet and a good amount of water to avoid dehydration or stomach issues.
Price
Each bottle contains 60 capsules and is available at a price of $29.99. As compared to other menopause supplements, it is priced rather high. However, it still falls in the average-priced products category because there are other tablets that are even more expensive.
Guarantee
The company, Twinlab, does not operate a refund or money back policy. It has a strict policy against used or unsealed products. The plus point is that this product comes with a backing from Food and Drug Administration (FDA) using its Good Manufacturing Practices, and therefore adheres to its strict quality control measures. However, this fact will not ensure that the supplement will be effective for every buyer. The company does not provide guarantees in case of medical ambiguities. It is, again, advised that a medical specialist be consulted under such circumstances.
Conclusion Of Our Menopause Response Twinlab Review
One of its ingredients, black cohosh root extract, is commonly added to menopausal products. Its other ingredients, like hops and maca root, are much less common in supplements but they are quite useful in combating the distressing menopausal side effects. The components have been engineered so that there is enough active ingredient to provide effective results.
A negative point is that Dual Action Menopause Response by Twinlab contains just 3 active ingredients and provides relief for only 6 symptoms of menopause. Also, it is rather costly and does not come with a money back or refund guarantee. This can be troubling if you have already used the product and are not satisfied by it.
Bringing you top reviews and product analysis - Consumer Advisors.