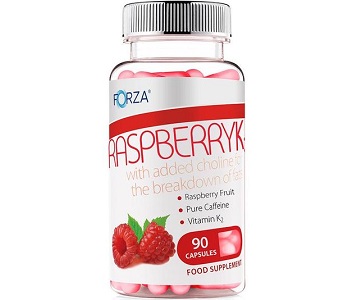 User Ratings (

0

Votes)

0
FORZA Raspberry K2 is a supplement that contains raspberry fruit extract and a number of other ingredients to help its users to lose weight. We've reviewed its quality as a dietary supplement based on its ingredients and how much of them is present in each product. We also taken it close look at the customer service at this manufacturer offers.
Ingredients
Raspberry fruit extract
Caffeine
Vitamin K2
Raspberry fruit extract contains some raspberry ketones. Raspberry ketones cause fat cells to release a hormone called adiponectin. Adiponectin causes neighboring fat cells to break down their fat stores and release high energy molecules.
Caffeine has a similar effect on fat cells, in that it causes them to release energy from their fat stores. Vitamin K2 helps to reduce calcium build-up in the arteries, which supports the effect of adiponectin in preventing atherosclerosis (blood vessel hardening). Choline is a molecule that can be converted into a number of different biologically Active molecules that the only relevant one that we could determine is that it is a structural part of cell membranes.
Dosage
The supplement is taken in capsule form and two capsules can be taken in the morning after breakfast and one capsule in the afternoon after lunch. Each time they should be taken with a full glass of water. The manufacturer recommends that anyone with a caffeine sensitivity should take just one capsule per day.
Possible Side Effects
The ingredient most likely to cause side effects in this supplement is the caffeine. Caffeine can cause insomnia, restlessness, increased heart rate, headache, anxiety and an addiction to it. Pregnant women, nursing mothers and anyone with a chronic medical condition should consider talking to their physician before using this supplement.
Price
There are two pricing options available for this supplement, a package of 45 capsules and a package of 90 capsules. The package of 45 capsules can be purchased for $13.25 online and the package of 90 capsules can be bought for $23.86. This manufacturer does not offer any discounts for buying packages in bulk or subscribing for a regular order.
Guarantee & Feedback
We could not find any evidence of a satisfaction guarantee or returns policy – only a cancellation policy. This policy allows the customer to cancel their order within 14 days without giving any reason. This must be done in writing.
Manufacturers which do not offer a satisfaction guarantee place the risk on the customer in the case that the product doesn't work. This suggests that the manufacturer is not entirely confident in the effectiveness of their product.
There aren't too many customer reviews on this product, but from the few that there are, they are mostly positive.
Our Conclusive Review About FORZA Raspberry K2
FORZA Raspberry K2 contains all natural ingredients and is available at an affordable price. We are not entirely convinced that this supplement will work though. The reasons for our doubt are that the supplement doesn't contain pure and concentrated raspberry ketones. The fact that the manufacturer expresses doubt in their own product by not offering a guarantee also influences our analysis.
Bringing you top reviews and product analysis - Consumer Advisors.