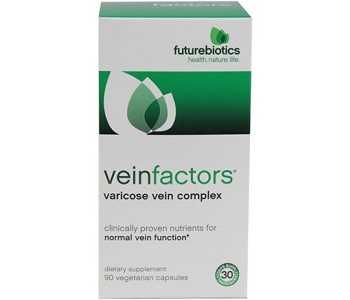 Quality of Ingredient

7.5

User Ratings (

0

Votes)

0
This review will provide an in-depth analysis of Futurebiotics VeinFactors to help you make an informed consumer decision. We have assessed several factors which contribute the product efficacy to determine if this product can deliver on manufacturer claims. The manufacturer states that VeinFactors contains patented extracts designed to support normal vein function and alleviate varicose veins.
Ingredients
DiosVein Diosmin Complex (with Hesperidin)
Citrus powder from lemon peel
Citrus Bioflavonoids
Venocin
Centellin
Butcher's Broom root extract
Futurebiotics Bio Accelerators (Bioperine, Ginger root extract, Trikatu, Digezyme, Lactospore)
The aforementioned list of ingredients can prove beneficial for reduced varicose veins. Diosmin and Hesperidin are commonly used to improve blood circulation and reduce inflammation. Venocin is a patented ingredient extracted from Horse Chestnut Seed. This ingredient is common to many competitor products as it plays a pivotal role in improving blood circulation and alleviating symptoms associated with varicose veins. Butcher's Broom is known for its anti-inflammatory and astringent properties and may improve the product's effectiveness. The additional ingredients are also designed to provide added relief from varicose veins. The fact that this formula contains several patented ingredients is positive to note. That said, it only comes as a capsule. Alternative brands on the market offer both capsules and a cream for additional benefit. This can provide superior relief from symptoms and support long-term prevention.
Dosage
Adults should consume three (3) capsules daily with meals. This dosage supplies 1000mg of the Diosmin and Hesperidin compound. This is typical of similar products on the market and, therefore, is sufficient.
Possible Side Effects
The manufacturer provides no warnings associated with the use of this product. This is a concern as long-term use of Diosmin can cause abdominal pain, diarrhea, and/or irregular heart rate. It would be wise to monitor for these side effects and discontinue use if these persist.
Price
The product can be bought online from the manufacturer's store. A bottle consisting of 90 capsules will cost you $29.95. This is a relatively steep price to pay for a one month supply. There are several more affordable options to consider. There are no bulk-buy deals to promote cost-effective long-term use.
Guarantee & Feedback
The manufacturer claims to offer a 100% guarantee for purchases of this product. This guarantee is argued to last up to one year. That said, this claim is asterisked and there is no other information elaborating on the return conditions. This brings the reliability and transparency of this guarantee into question. We were also disappointed to note a few negative customer reviews which report that the product did not deliver optimal results.
Our Conclusive Review About Futurebiotics VeinFactors
The patented formula is positive to note. This indicates a level of quality consideration during the manufacturing of this product. The guarantee bodes well for the efficacy of the product, however, the lack of transparency is concerning to note. The product is relatively expensive when compared to certain competing brands. Consumers may find more affordable deals and bulk-buy options for alternatives on the market. A few negative customer reviews suggest that this product did not work as intended. We, therefore, do not recommend Futurebiotics VeinFactors as an assured remedy for varicose veins.
Bringing you top reviews and product analysis - Consumer Advisors.