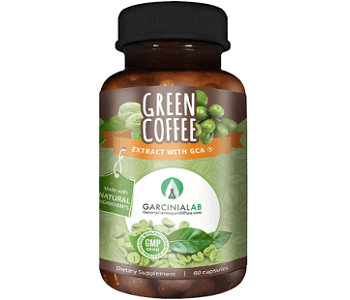 User Ratings (

0

Votes)

0
Losing weight is a goal of many people in today's society. Statistics show that the majority of Americans are either obese or overweight, so it is no surprise there are so many products on the market claiming to make dieting easier. It is important to be careful when choosing a diet supplement as not all of these products are manufactured according to proper standards. Some don't even contain enough of the necessary ingredients to be effective. This review examines the weight loss supplement Green Coffee Extract by Garcinia Lab. This product claims to be 100% natural with no binders, fillers, or any chemicals.
Ingredients
Each capsule contains 800 mg of green coffee bean extract with 50% chlorogenic acid. The website states that the capsules are 100% veggie capsules. The chlorogenic acid is what gives green coffee extract its weight loss properties. It stops the formation of fat, regulates blood sugar levels, increases energy and suppresses appetite.
Dosage
There is a bit of a contradiction here with the information the manufacturer has provided. On the label with the ingredients, it states to take one capsule a day, 30 minutes before a meal with a full glass of water. However, on the main page of the website, it states that the daily dosage is 1600mg which is two capsules. 800mg a day is too low for a product of this kind.
Possible Side Effects
The manufacturer does not mention any side effects with taking this product. They do state that you won't suffer from any jitters. Green coffee beans do contain a small amount of caffeine which is important to keep in mind.
Price
You can buy this product directly from the manufacturer's website. One bottle contains 60 capsules and is sold for $15.95, which seems to be reduced from $30.95. You can also buy multi-bottle packages reducing the price of each bottle. A two-bottle pack will cost $15.45 per bottle, a three-bottle pack will cost $14.95 each, and a four-bottle pack will cost $13.45 each.
Guarantee & Feedback
The manufacturer offers a 30-day return policy. However, this only applies to unused bottles and any merchandise that was already opened cannot be returned. This is disappointing as it does not give you a risk-free way of trying out the product.
There are very few user reviews on the manufacturer's website, however, they are all positive which is not surprising.
Our Conclusive Review About Garcinia Lab Green Coffee Extract
Based on the pure ingredients, this seems like a good product. It contains the correct dosage for effectiveness and no added ingredients. The price for this product is very low, which makes us wonder a little about the quality of the ingredients. This product does not seem to come with a GMP certification, which is a system that establishes that products are consistently manufactured. This system looks at the whole manufacturing process so it is an important certification for a product to have. The lack of guarantee is another drawback of the product. It is too short to really determine the effects of the product and you can also only return closed bottles. There are other products on the market with the same pure ingredients but with more to offer.
Bringing you top reviews and product analysis - Consumer Advisors.