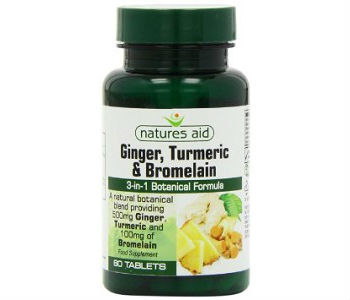 User Ratings (

0

Votes)

0
Anyone ever having suffered from inflammatory diseases such as rheumatoid arthritis, osteoarthritis,  or arthritis knows what it is like to deal with the pain due to the inflammation these diseases cause. There are many natural substances that may help with the discomfort. Ginger for instance, has properties that make it an anti-inflammatory and antioxidant, so you really get the best of two worlds in this case.  Turmeric contains the anti-inflammatory agent Curcumin.  Curcumin also appears as the leader in this group for historical use as it has been used for centuries in Chinese and Indian cultures for its beneficial properties. Studies concerning Turmeric note that with Turmeric  being used quite frequently in India, this country has 10 times less prevalence of cancer, especially prostate cancer which is rarely found in this country. Bromelain is also a great anti-inflammatory agent and is used frequently as well.  Ginger, Turmeric & Bromelain by Natures Aid is designed to support the body in its fight to reduce inflammation which causes such chronic pain.
Ingredients
The manufacturers website of Ginger, Turmeric & Bromelain by Natures Aid notes that this product is a natural botanical blend of these three herbs; Ginger, Turmeric and Bromelain. Additionally the following ingredients are present:
Di-Calcium Phosphate,
Ginger Prep. (Ginger Extract, Maltodextrin, Silicon Dioxide),
Bromelain Prep, (Bromelain Maltodextrin),
Sodium Carboxymethylcellulose,
Anticaking Agents (Silicon Dioxide, Vegetable Source Magnesium Stearate).
Additionally, this formula may be safe for vegans and vegetarians.
Possible Side Effects or Concerns
While this website makes no note of any concerns with this product, there is an overall concern regarding the use of Bromelain that should be noted.  Bromelain is an active enzyme and those with any sensitivity to wheat, celery, carrot, fennel, grass or cypress pollen should use caution when taking Bromelain.
Dosage
The manufacturer recommends a dosage for this product at one to three tablets daily, not exceeding this recommended dosage.
Price
This manufacturer is located in the UK and pricing is stated as such.  There is no clear link to purchase being available in the US, but one may send an inquiry if desired.  The stated price is £7.95 which as of this writing would be 11.73 USD.
Guarantee
The manufacturer has a rather strict return policy noting that they will not refund any products that have been opened, they will accept the return less any shipping fees and refunds will be issued within 30 days of the return.
Conclusion Of Our Natures Aid Ginger, Turmeric and Bromelain Review
While on the surface this seems to be an adequate product for relieving some inflammation and pain, it is quite costly when you consider their recommended dosage, as if taken to the maximum dose, one bottle will only last 20 days.  Additionally, this brand appears to include a number of fillers in their product. At least this manufacturer does offer a guarantee if products are returned unopened.  Otherwise, one may want to just consider additional resources for their purchase.
Bringing you top reviews and product analysis - Consumer Advisors.