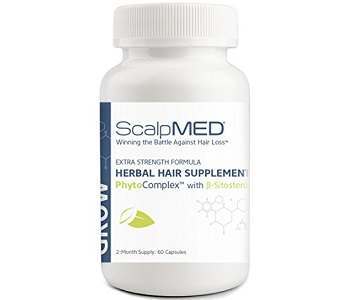 User Ratings (

0

Votes)

0
This ScalpMED Herbal Hair Supplement review aims to determine whether this product can deliver what it promises. According to ScalpMED, its herbal hair supplement is designed to promote thicker and healthier by providing the scalp the nutrients it needs. They also claim that their product doesn't come with any sexual side effects. The question now is whether there is truth to these claims. If you want to know more about ScalpMED Herbal Hair Supplement, read on.
Ingredients
Riboflavin – 5.1mg
Niacin – 5mg
Biotin – 900mcg
Zinc – 15mg
Selenium – 50mcg
Phytocomplex Blend – 435mg
The Phytocomplex blend includes Beta-Sitosterol, Campesterol, Stigmasterol, Saw Palmetto Extract, Horsetail Extract, Green Tea Extract, Linolenic Acid, Turmeric Extract, Bamboo Extract, Pygeum Africanum Extract all of which can contribute to healthier hair growth as they can stimulate hair follicles for stronger hair strands.
Dosage
ScalpMED recommends that you take this dietary supplement once a day. You should ingest one capsule in the morning before breakfast.
Possible Side Effects
According to ScalpMED, there are no known sexual side effects to using its herbal hair supplement. Customers who commented did not mention any side effects as a result of using this product.
Price
At the time we wrote this review you could purchase a bottle of 60 capsules (a two-month supply) from ScalpMED's website for $39.99. There are no apparent discounts for buying multiple bottles. You could also buy it on Amazon for $37.48.
Guarantee & Feedback
ScalpMED only offers 30-day money-back guarantee. This means that if you are not satisfied with the results of their herbal supplement, you have the option to return the product within 30 days of purchase. This is not really conducive to determining the effectiveness of the supplement for one's hair growth — something you should consider before purchasing this product.
We were unable to find many customer reviews. For those we did dig up, many were satisfied with the results of ScalpMED, while several were not entirely happy with the results.
Our Conclusive Review About ScalpMED Herbal Hair Supplement
We like that ScalpMED Herbal Hair Supplement is made from natural ingredients. The Phytocomplex blend used in this supplement is worth taking note of because of the presence of beta-sitosterol, saw palmetto extract and Pygeum Africanum extract all of which are said to boost one's hair follicles to produce strong and thick hair. It is also worth mentioning that there are no known side effects associated with this product. The price also seems reasonable at about $20 per month, pro-rated.
However, a point of contention here is the money-back guarantee which is, we believe, too short to give new customers enough time to determine whether this supplement is effective or not. We think that, although the ingredients here are all-natural, there might be better hair supplements to consider.
Bringing you top reviews and product analysis - Consumer Advisors.