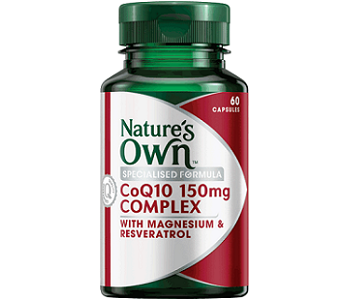 User Ratings (

0

Votes)

0
The following review is of Nature's Own CoQ10 150mg Complex. The manufacturer claims that the product contains a high potency of Coenzyme Q10 that will support cardiovascular health and boost energy production. We have analyzed factors that may contribute to the product's effectiveness to help you make an informed consumer purchase.
Ingredients
Coenzyme Q10 (Ubidecarenone)
Magnesium (as amino acid chelate)
The product formula is designed to support heart health and promote energy production. CoQ10's primary role in the body is to supply cells with energy, transport electrons, and regulate blood pressure. It is responsible for the body's ability to turn nutrients into energy and thus promotes energy production. It also prevents the harmful impact of free radicals and thus supports organ health. Magnesium is a mineral that works to reduce blood pressure and thus minimizes the risk of heart disease. Fallopia japonica extract supplies Resveratrol, an important antioxidant that improves overall health. This substance is an anti-inflammatory that promotes blood circulation. The fact that this formula includes these additional ingredients is positive to note. That said, the lack of cGMP certification brings the quality of this product into question.
Dosage
The manufacturer states that adults should consume one (1) capsule daily with food. Each serving supplies 150mg of Coenzyme Q10. It is a concern to note that several competitor products contain 250mg of CoQ10. The dosage of this product, therefore, can be considered too low. For optimal benefit, users may need to increase their serving size.
Possible Side Effects
The manufacturer does not stipulate any side effects of using this product. That said, we recommend discontinuing use if you experience nausea, insomnia, or abdominal pain.
Price
This product can be purchased online through third-party sites. It costs $19,99 USD from one retailer. This is discounted from $29,62 USD, meaning you save $9.63 USD. This appears to be a substantial saving. That said, you will need to increase the dosage for optimal results and this will shorten the lifespan of each bottle. Therefore, you will need to purchase the product frequently and this could become costly.
Guarantee & Feedback
The manufacturer does not offer a guarantee. Guarantees are dependent on the third-party site through which the product is purchased. The specifications of each may vary but on one site we noted that the guarantee is only extended to unopened products. The fact that the manufacturer does not offer a guarantee is a concern as it suggests that they are not confident in the product's ability to work as intended. Another concern is that we were unable to find substantial customer reviews for this product. This means that we cannot assure the efficacy of this product.
Our Conclusive Review About Nature's Own CoQ10
Nature's Own CoQ10 150mg Complex contains a formula of beneficial ingredients. The inclusion of Magnesium and Fallopia japonica extract is an appealing selling point. In the right dosage this product may be effective, however, each serving provides less CoQ10 than alternative products on the market. It is also a concern that the increased dosage will shorten the lifespan of each bottle. Therefore, long-term use could become a costly endeavor. The lack of manufacturer guarantee and customer reviews does not bode well for the efficacy of this product. We suggest seeking a more proven alternative for improved heart health and energy production.
Bringing you top reviews and product analysis - Consumer Advisors.