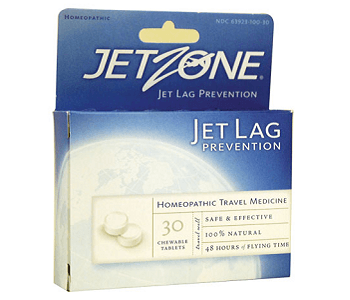 User Ratings (

0

Votes)

0
This product review gives you all the information you need to know about Global Source JetZone Homeopathic Jet Lag Remedy. This product was designed to fight get lag during a flight without causing any undesired effects. It is an athlete and military companion for helping those flying across different time zones, flight crews, and frequent air travelers who exhibit the signs of insomnia, anxiety, irritability, and exhaustion. Read on to learn more about this product.
Ingredients
The active ingredients in this product include:
Arnica Montana- This ingredient fights sleeplessness and restlessness when overtired.
Kali Phosphoricum- It fights weakness, tiredness, and the headache that results from fatigue.
Cocculus Indicus- It is essential for preventing constant drowsiness when a traveler loses sleep. It also treats headaches.
Nux Vomica- This ingredient fights anxiety, heartburn, and restlessness.
Gelsemium Semperviren- It relieves insomnia that results from exhaustion.
Argentum Nitricum- A remedy for mental anxiety.
The inactive ingredients in this product include:
Magnesium Stearate
Lactose
Starch
Dosage
Children from 6 years of age and adults should chew a tablet an hour before every flight. Take one tablet at intervals of 2 hours during the flight and chew another tablet after landing. It is okay if you fall asleep during the flight. You can sleep and continue taking one tablet at intervals of two hours after waking up. Cases of overdose should be reported immediately. Pregnant and breastfeeding mothers should consult a doctor before use. It is also advisable to look for professional assistance if the symptoms last for more than a week.
Possible Side Effects
Based on the information collected during our research, this product is 100 percent natural. It is safe and effective. It does not cause any interactions or unwanted side effects.
Price
The price of one pack containing 30 chewable tablets is $10.08 on Amazon. You can also purchase this product from other online stores at a slightly lower price. Price discounts for this product depend on the seller you choose.
Guarantee
We were also keen to find out whether this product comes with a satisfaction guarantee. Unfortunately, there is no satisfaction guarantee. The lack of this guarantee may trigger quality-related questions among potential buyers. A satisfaction guarantee is important because it assures buyers that the product can achieve what it purports to achieve failure to which customers get a refund of the full purchase amount. Without this guarantee, customers have to take a risk. Nevertheless, the number of positive customer review is overwhelming.
Conclusion Of Our Global Source JetZone Review
In conclusion, there is no doubt that this product contains ingredients that play a significant role in helping people who are experiencing jet lag and other related problems. Having safe and effective ingredients is one of the benefits of this product. Moreover, this product has received numerous positive reviews meaning that most customers are satisfied with the product's quality and effectiveness. On the other hand, this product lacks a satisfaction guarantee to assure customers that the manufacturer is sure of the products' capability. In addition, overdosing is harmful, unlike some of the homeopathic products we have reviewed.
Bringing you top reviews and product analysis - Consumer Advisors.