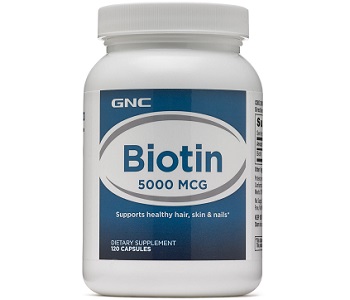 User Ratings (

0

Votes)

0
Today we review GNC Biotin.  This supplement has the B vitamin needed to help support healthier hair, skin, and nails.  It is also gluten, sugar, and dairy free, which makes it an easy supplement for many people to take.
Ingredients
This supplement contains 5,000 mcg of biotin.  Through our research, we know that the clinical research has shown the optimal dose of biotin to be 10,000 mcg daily.  The means that these capsules only contain half of the doctor recommended dose of this vitamin.
Dosage
The recommended daily dose for this specific supplement is to take one capsule daily.  It is not stated however, whether you should take the capsule with food or water. Again, by only taking one capsule, you will only be getting half of the best daily dose of biotin.  This could cause the supplement to be less effective at helping you grow your hair and nails.
Possible Side Effects
While there are no listed side effects for this supplement, one customer did state that she felt itchy after beginning this supplement.  The reply to her comment said that she was not drinking enough water with the supplement, and by increasing her water intake, the itchiness would go away.  It is strange that water intake is not listed on the actual supplement at all.
Price
These capsules come in both 120 count bottles and 240 count bottles.  The 120 count costs $19.99 while the 240 count costs $37.99. The company also offers discounts for their products.  Free shipping is offered on any order over $49. Also, if you subscribe to their auto-shipment program, you can receive 10% off plus free shipping on future shipments.  Unfortunately, these auto-shipment programs are typically extremely hard to cancel, and once they get your credit card information, they will continue to charge you, even if you are no longer interested in the product.
Guarantee & Feedback
This manufacturer does offer a 30 day money back guarantee on all of its products. If you find yourself displease within the first 30 days of your purchase, you can return the item for a full refund, minus the price of shipping and handling.  Unfortunately, 30 days is not typically enough time for a supplement to fully start working, so you will not have enough time to see the capsule's full effect before the guarantee expires.
There were customer reviews listed on the manufacturer's website, and they were all 5 stars.  We are weary, as it was the company's website, so they may filter out negative reviews to make it more enticing to buy their product.
Our Conclusive Review About GNC Biotin
There are a few things we liked about GNC Biotin.  The company does offer some discounts on their products, allowing a cheaper purchase price.  Also, there were positive customer reviews and a money back guarantee.
Unfortunately, there were multiple things that raised our concerns about this supplement.  First of all, the amount of biotin in each daily dose is only half of the clinically proven dose.  Also, the discounts available are through an auto-shipment program, which means it may cost you more money in the long run.  Lastly, the manufacturer's guarantee is not long enough and the lack of any negative feedback shows the company may be filtering what customers see.  For these reasons, we cannot recommend this supplement to help you grow healthier hair, skin, and nails.
Bringing you top reviews and product analysis - Consumer Advisors.