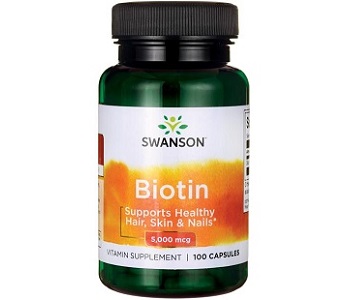 User Ratings (

0

Votes)

0
Today we review Biotin manufactured by Swanson. Biotin is often referred to as the "beauty nutrient" because of its ability to nourish the skin, nails and hair. Biotin acts as a coenzyme and is part of the B-vitamin complex family. It claims to help metabolize fatty acids and proteins thereby helping to supply the cells in your body with enough energy. If you regularly experience brittle or broken nails, or your hair has lost its shine you may be able to benefit from a biotin supplement. Read our review below for more information.
Ingredients
Each Biotin capsule contains 5000 mcg of Biotin. Other secondary ingredients include rice flour, acacia gum and gelatin. Biotin is usually taken to prevent biotin deficiency that is associated with pregnancy, tube feeding, malnutrition and fast weight loss. People that suffer from hair loss, skin rash, diabetes or thin and brittle nails can also benefit from using biotin. Unfortunately, we could not find any information stating if this product is vegan-friendly or not.
Dosage
It is recommended that you take 1 dietary capsule per day with water.
Possible Side Effects
Ingesting too much biotin can lead to nausea, diarrhea and acne. Allergic reactions can also take place if you are allergic to some of the ingredients in this product. If you are diabetic, pregnant or nursing it is best to consult your doctor before taking this supplement.
Price
You can buy this product directly from the manufacturer's website. One bottle, containing 30 capsules, will cost you $2.09. If you subscribe to automatic shipment and your order total is over $50, you can get 10% off of your order and you will not be charged any shipping fees. You can also order this product from Amazon and other 3rd party retailers.
Guarantee & Feedback
The manufacturers of this product do have a 30-day refund policy. They will refund you if you return any used or unused portion of the product within 30 days of delivery. If your return is valued at $500 or more you will be subject to a 20% restocking fee. Customer reviews on Amazon regarding this product are varied. Up to 25% of the reviewers gave this product a 3-star rating or lower, signaling that not every reviewer was satisfied with this product. A lot of people complained that this product did not help them at all with some people stating that it gave them bad acne and that the bottle they received was past its expiration date.
Our Conclusive Review About Swanson Biotin
We like that this product is relatively affordable and that it offers a balanced dose of biotin per capsule. We also like that you can find it just about anywhere online and that it has a 30-day guarantee policy. However, we are very worried about the multiple negative reviews this product received online. A lot of people claimed that they have returned their product because it didn't work at all. We are also disappointed that Swanson doesn't mention if this product is vegan-friendly and they also do not state if any artificial ingredients have been used in the making of this product.
Bringing you top reviews and product analysis - Consumer Advisors.