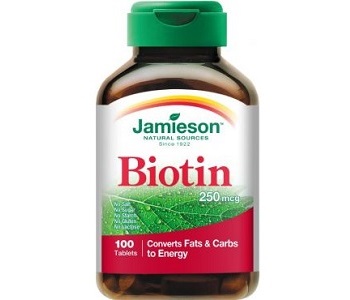 User Ratings (

0

Votes)

0
Even though vitamin B6 or biotin is so critical to just about every process in the body, few people are aware of how vital it is. Today we review Biotin 250 mcg as manufactured by Jamieson Vitamins.
Without biotin, the metabolic process required to extract energy from carbohydrates, proteins and sugars cannot happen. That means your body could be starved of vital nutrients which eventually leaves you technically malnourished, psychologically down and feeling lethargic. You may not know what the cause is but over time your hair will seem dull and thin, your nails will be weak and your skin papery and aged. Most people therefore take biotin for great hair growth and strong nails. B6 is so important that without it, and embryo would have problems developing.
Ingredients
Biotin 250 mcg
Cellulose
vegetable magnesium stearate
silica
Biotin is naturally found in raw, unprocessed foods and foods high in healthy fats such as nuts, as well as fresh foods. Unsurprisingly, modern diets and also cooking methods eliminate most of the vitamin B6 from foods. The other problem is that over time this interferes with all bodily processes and leaves you looking prematurely old. B6 is essential to a youthful appearance.
This dose is more than adequate as you need 30 mcg per day. But you do need a daily intake is it isn't stored in the body, and chances are you are slightly deficient any way – most people are.
Dosage
Take 2 tablets per day. Do not give this to children.
Possible Side Effects
Do not take this if you are pregnant or breastfeeding unless by permission of a doctor. Although B6 is important for embryonic growth, safety in supplementation form during pregnancy has not been established.
Price
The bottle contains 100 tablets, a 50-day supply, and sells for $12.99 on Amazon.
Guarantee & Feedback
Jamieson Vitamins does not appear to have a guarantee or returns policy. You cannot buy products directly from them and have to do so via third-party resellers which probably accounts for the seeming lack of a policy.
Conclusive Review of Jamieson Vitamins Biotin
Biotin 250 mcg contains no salt (NaCl), sugar, starch, gluten, lactose, artificial colours, flavours or preservatives. This dose will assist you to metabolize dietary carbohydrates, fats and proteins and over time you should see a big improvement in mood, zest for life and you will particularly see the effects showing up as strong, healthy nails and hair.
However, the dose is comparatively low compared to other manufacturers offering at least 2500 mcg or 5000 mcg and higher at similar prices. You need to take biotin consistently over time and every day to see the effects because as a water-soluble nutrient, it leaves the body every day via urine. That means you need to replenish it and as such, as a savvy consumer, bulk buying at a discount would be a sensible way to go. As this Jamieson Vitamins does not seem to offer bulk discounts, you could also consider purchasing your biotin from a manufacturer giving you bulk discounts. You are likely to find options with a higher microgrammage of biotin as this is what we found when researching this vitamin in supplement form.
Bringing you top reviews and product analysis - Consumer Advisors.