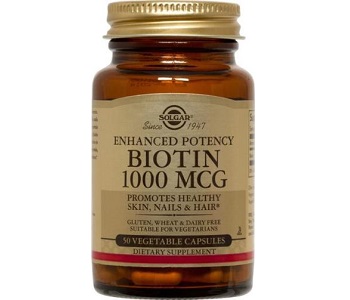 User Ratings (

0

Votes)

0
Today we review Biotin, manufactured by Solgar. Biotin is a water-soluble B-vitamin that forms a part of the vitamin B Complex.  It acts as a coenzyme and claims to promote the health of skin, hair and nails. This vitamin is also responsible for energy metabolism in the body and specifically helps to break down fats, carbohydrates and protein. If you suffer from brittle nails, hair breakage or bleak and dry skin then a Biotin supplement might be worth investing in. Read the review below if you want to know more.
Ingredients
This product contains 1000 mcg of Biotin per capsule and is free of gluten, wheat, dairy, soy, yeast, sugar, sodium, artificial flavor, sweetener, preservatives and color. Other secondary ingredients in this product include Microcrystalline Cellulose, Vegetable Cellulose, Vegetable Stearic Acid and Vegetable Magnesium Stearate.  Biotin helps to maximize your body's keratin infrastructure that in turn help to strengthen your hair and nails. It also helps to reduce inflammation and it improves your cognitive abilities.
Dosage
This product should be used as a dietary supplement and it is advised that adults take 1 capsule once or twice a day with meals.
Possible Side Effects
If too much Biotin is consumed you can have some minor side effects such as nausea, cramping and diarrhea. It is advised that you speak to your doctor before taking this product if you are pregnant, nursing or a diabetic.
Price
This product is not available directly from the manufacturer's website but can be purchased on Amazon. One bottle, containing 250 capsules, will cost you $19.80 and includes free shipping in most parts of the US.
Guarantee & Feedback
The manufacturers themselves offer no guarantee on this product, seeing as they don't sell it directly. However, other 3rd party retailers may have their own retail policies that you can benefit from. Amazon has a 30-day money back guarantee if you are unsatisfied with the results of the product. Feedback regarding this product is varied. Most customer reviews were quite positive, however, there was also a significant amount of negative reviews.  Some people complained that this product had little to no visible effect on their health and that the dosage of Biotin was not as high as some of the other products they have tried out before.
Our Conclusive Review About Solgar Biotin Review
We like that this product is free from artificial ingredients and that it is vegetarian-friendly. We also appreciate the fact that this product can be taken in such a way as to monitor the amount of Biotin you wish to take, unlike some of the 10 000 mcg Biotin capsules. However, we are disappointed by a lack of a good guarantee offered by the manufacturers of this product. We feel this reflects rather poorly on the confidence the manufacturers supposedly have in this product. We are also put off by some of the side effects that can be encountered with this product. Even though you can monitor the amount of Biotin you take every day with the 1000 mcg per capsule, we feel that the dosage of Biotin per capsule is still rather low compared to similar products on the market.
Bringing you top reviews and product analysis - Consumer Advisors.