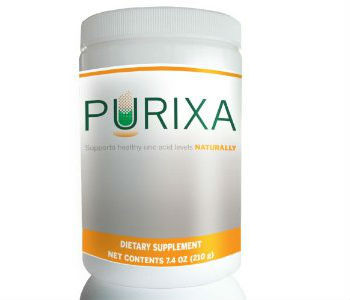 User Ratings (

0

Votes)

0
Purixa is one of the many natural supplements available in the market to help in the prevention of gout attacks. It has a dual-action mechanism to make sure that the level of uric acid is just right. Once the level becomes high, this will lead into a variety of gout symptoms. This supplement is made with the use of ingredients rich in vitamins, minerals, and protein. It is available in powder formulation and can be bought even without prescription from a doctor. Purixa is backed with extensive scientific research, which means all of the ingredients are carefully selected and proven to be both safe and effective.
Ingredients
Ascorbic Acid: This is an excellent source of Vitamin C, which is beneficial in terms of being able to increase one's urine output to get rid of the wastes in the body.
Extracts of Green Tea: Considered as diuretic, green tea also helps in the production of urine and release uric acid. It is also abundant with anti-inflammatory properties, which will be good for relief from pain and inflammation, among other gout symptoms
Resveratrol: Sourced from knotweed root, which is a native in Japan, this ingredient will be an agent for the inhibition of xanthine oxidaze enzyme, which triggers the production of uric acid.
Casein: This ingredient is sourced from milk and is responsible for the excretion of uric acid and keeping the uric acid levels low. Through the latter, urate crystals are prevented from forming. The calcium that is found in this ingredient is also essential in the maintenance of healthy bones, which will make you less likely to suffer from gout.
Others: Aside from those that have been mentioned above, mint flavouring, soy lecithin, and Stevia are also used.
Dosage
As recommended by the manufacturer, this gout supplement is supposed to be taken daily, with at least 7 grams or one scoop of serving. It comes in powdered form, and it can be combined with water, or even with fruit juices.
Possible Side Effects
This gout supplement contains soy extracts and milk, which is why it can trigger allergic reactions to some people.
Price
One pack of Purixa is sold at $39.95, which already include the shipping fees. If you buy more than a single pack, further discount can be extended. If you are going to purchase three packages, the individual price of each bottle will only be $33.32. Compared to other supplements in the marketplace, Purixa is generally more expensive.
Guarantee
The manufacturer has a satisfaction guarantee for a period of 30 days. Within such duration, if you are unhappy with this supplement, the manufacturer will issue a refund, but will already be deducted for shipping and handling costs.
Conclusion Of Our Purixa Review
In spite of having an effective list of ingredients, many people find it costly. If you are on a tight budget, there are other supplements in he market that are as effective and has a comprehensive list of ingredients as well but available at a cheaper price.
Bringing you top reviews and product analysis - Consumer Advisors.