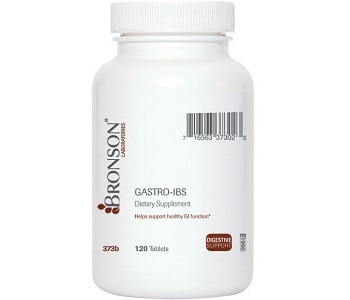 User Ratings (

0

Votes)

0
Today we will review a product called Gastro-IBS, manufactured by Bronson. This product aims to support the symptoms that come with irritable bowel syndrome (IBS). These symptoms include nausea, constipation, gas, bloating, and diarrhea. IBS compromises normal and regular digestion which in turn causes toxins and mucus to grow in the intestine. The manufacturer claims that their product, which contains advanced probiotics, can help solve these problems mentioned above. Read on to see how Bronson Gastro-IBS works and if it can help you.
Ingredients
Bronson Gastro-IBS contains a long list of ingredients. These ingredients include vitamins such as vitamin A, B6 and C. It also contains minerals such as calcium and magnesium. Furthermore, the product contains peppermint which soothes pain and inflammation in the gastrointestinal tract. The product contains a proprietary blend of ingredients that help soothe the gut. Lastly, a probiotic, namely lactospore, is found here. We do however see that the product lacks the presence of BioPerine which would help increase absorption.
Dosage
It is recommended by the manufacturer that users take one tablet as a dietary supplement. This tablet should be taken daily. Users may also follow the advice of a healthcare professional concerning the dosage. Unfortunately, the manufacturer does not indicate if the tablet should be taken with a meal. Also, they do not suggest the best time of day when the tablet should be taken – morning or evening.
Price
Bronson Gastro-IBS can be purchased online from the manufacturer's website. The product is currently on sale. A bottle of 60 tablets will now cost $3.60. A bottle of 120 capsules will cost $16.79. The product has been marked down by 30%. The price is very low and may indicate that the manufacturer has either used low quality ingredients or that the product is ineffective.
Guarantee & Feedback
The manufacturer offers a 1-year money-back guarantee for customers who are not 100% satisfied with the product. Customers may return the unused portion of the product for a full refund, less shipping fees. This is a very strong guarantee considering the low purchase price of the product. The manufacturer might be presenting such a strong guarantee because they know customers will not bother returning it after paying so little for it.
The manufacturer has only provided potential customers with two reviews on their website. Both reviews are very positive. Potential customers would rather prefer seeing a variety of positive as well as negative reviews.
Our Conclusive Review About Bronson Gastro-IBS
This review has presented a few things that we like about Bronson Gastro-IBS. The manufacturer offers a very strong guarantee for customers who purchase this product. The product is also filled with many ingredients that will break-down foods consumed.
Unfortunately, there are also many things we have found that we do not like about the product. First of all, the product does not contain BioPerine. This helps increase absorption. Lack thereof may hinder the effectiveness of the product. Furthermore, the manufacturer does not offer clear instructions on when the best time of day is to take the tablets. Also, they do not state if it should be taken with or without a meal. Lastly, and the most noteworthy, the purchase price for the product is very low, in comparison with other products. This may indicate that the ingredients are of low quality or that the product is ineffective. For these reasons, we do not recommend Bronson Gastro-IBS.
Bringing you top reviews and product analysis - Consumer Advisors.