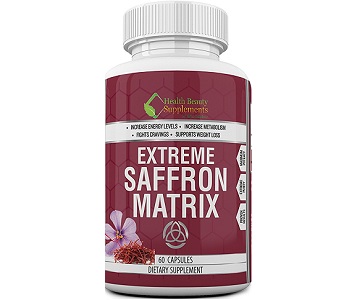 User Ratings (

0

Votes)

0
Saffron has been used as a supplement and traditional medicine in Asian countries for many years. It has been used in the treatment of many ailments. Saffron is extracted from the long, filamentous parts of the the crocus plant, called the stigmas. Saffron extract use has shown a range of health benefits, which would explain why all the effort of processing up to 75000 flowers is exerted to produce one pound of saffron extract. Some of the health benefits provided by saffron extract include help with weight loss and mood stability. That is why there are so many saffron extract supplements available and it can be difficult to decide which is best. In this review, we look at Health Beauty Supplements Extreme Saffron Matrix and give you the facts to help you decide.
Ingredients
The only ingredient in this product is Saffron Extract. Saffron extract has been associated with a wide range of health benefits. Many of these benefits stem from the fact that saffron increases levels of the neurotransmitter serotonin in the body. Serotonin is classically known as the mood stabilizing neurotransmitter. Serotonin is also involved in controlling appetite, namely by suppressing hunger. By acting in both these ways saffron extract can greatly help weight loss, because not only does it decrease overeating, it also decreases the chance of emotional or comfort eating.
Saffron also contains many vitamins and minerals. If taken regularly, saffron can supplement the diet, making sure that the correct values of the vitamins and minerals present are taken in. These vitamins and minerals include manganese, vitamin C, magnesium, iron, potassium and vitamin B6.
Dosage
One capsule containing 88.5 mg of saffron extract can be taken twice each day. Preferably, the capsules should be taken 20 to 30 minutes before food.
Although this supplement contains a sufficient dose of saffron extract, there are other supplements available which provide higher dosages.
Possible Side Effects
Although no side effects have been reported for this product, it is recommended that pregnant or breastfeeding women as well as anyone undergoing treatment for a long term medical condition consult a physician before the use of this product.
Price
One package of 60 capsules can be purchased online for $17.99. Health Beauty Supplements does not offer a discount for buying several packages simultaneously, which can cause the long term use of this product to be more expensive.
Guarantee & Feedback
Health Beauty Supplements offers a money-back guarantee, though they do not specify how long it is valid for, nor what condition the package must be returned in.
There are no customer reviews available for this product.
Our Conclusive Review About Health Beauty Supplements Extreme Saffron Matrix
This supplement can cause a variety of benefits, using all natural products with no major side effects. The directions for use of this product are clear and comprehensive and the price is reasonable.
However, we advise caution if intending to use this product because there are no independent confirmations of its effectiveness and the guarantee provided by the manufacturer is ambiguous. Additionally, this supplement does not provide the highest dosage of saffron extract available.
Bringing you top reviews and product analysis - Consumer Advisors.