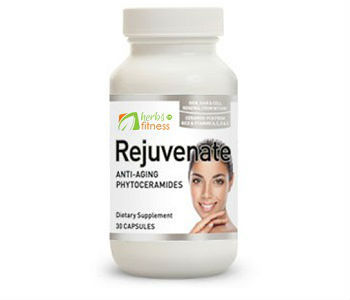 User Ratings (

0

Votes)

0
Ceramides are very important for a human's body. You can find them within the layers of the skin and they are the ones that keep your skin hydrated, moisturized, elastic and youthful. When your body starts losing ceramides your skin begins to deteriorate. You start having wrinkles, fine lines, dried and damaged skin. The bottom line is that when ceramides levels decrease the aging process starts. In order to delay and maybe even reverse this process you need some help. Phytoceramides supplements are the ones that can provide you this help. These products replenish the ceramides levels and they can also reverse the side effects of the aging process.
There are many products available on the market that can offer you the support you are looking for and Herbs Fitness Rejuvenate Anti-Aging Phytoceramides is one of them. This supplement is said to bring positive results for people who want to look younger. Find out everything about this product and you be the judge.
Ingredients
Here is what you can find in Herbs Fitness Rejuvenate Anti-Aging Phytoceramides:
Vitamin D
Vitamin E
Phytoceramides, Glycolipids & Glycosylcerimides ( Ceramide-PCD)
Magnesium Stearate
Silicon Dioxide
Vegetable Cellulose
Stearic Acid
Purified Water
Dosage
Take the recommended dosage if you want to see fast results. The manufacturer says that you should take one capsule of Herbs Fitness Rejuvenate Anti-Aging Phytoceramides per day before a meal.
Side effects
We checked the company's website and found out that this supplement has no side effects but you should consult a doctor before buying it just to make sure that it's totally safe.
Price
Herbs Fitness Rejuvenate Anti-Aging Phytoceramides is sold in bottles with 30 capsules. This quantity should be enough for one month if you respect the recommended dose. A bottle costs pretty much and this might represent a setback for possible customers. The price is $41.99 per bottle.
Guarantee
We couldn't find any information about a money back guarantee for this product. The consumer should be weary of this.
Conclusion Of Our Herbs In Fitness Rejuvenate Anti-Aging Phytoceramides Review
Herbs Fitness Rejuvenate Anti-Aging Phytoceramides seems to be a reliable product that many people choose. This supplement can help you replenish ceramide levels and this way you will look younger and healthier. If you feel that this product doesn't suit your needs you can try a different one. There is no return policy nor does it have the FDA seal of approval.
Bringing you top reviews and product analysis - Consumer Advisors.