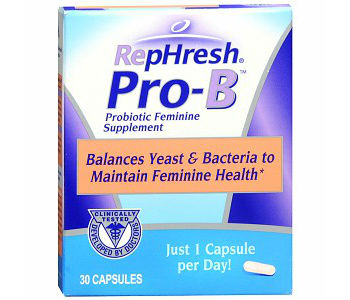 User Ratings (

0

Votes)

0
RepHresh Pro-B Probiotic Feminine Supplement is a product that is designed to help alleviate feminine itching that is caused by high levels of yeast and bacteria that result in an imbalance in vaginal flora. Feminine itching is a common problem that many women suffer from needlessly, and it is often a problem that is women choose to treat by reaching for a topical ointment. Although topical ointments can provide temporary relief, most ointments do nothing to the itchy side effects that often stem from infections. In cases that are severe many physicians have prescribed oral medications that are made to treat the problem from the inside out, instead of just calming outward symptoms.  We decided to take a look at the experiences and opinions provided by hundreds of reviewers who have tried RepHresh Pro-B to see if they thought that this oral supplement was effective in eliminating what ailed them.
Ingredients
Lactobacillus Rhamnosus GR-1 2.5 Billion CFU
Lactobacillus Reuteri RC-14 2.5 Billion CFU
Both ingredients are probiotic strains found in the Pro-B Feminine Supplement. The CFU values noted are the levels contained at the time the product was manufactured.
Dosage
It is suggested that women take only a single capsule of this supplement on a daily basis. According to the manufacturer, this dosage is enough to preserve a healthy feminine balance.   In spite of this, the manufacturer also recommends taking this supplement with RepHresh Vaginal Gel in order to obtain the best possible results. RepHresh Vaginal Gel is a topical treatment that which adds to the overall value of the oral medication.
Side Effects
One aspect that users need to be aware of before trying this supplement is that the statements given for this supplement have not been completely evaluated by the FDA. Because this supplement contains lactose, it is not recommended for women who are pregnant, nursing, or who suffer from lactose intolerance. This supplement is not a suitable choice for vegans.
Price
The price of one 30-count bottle of RepHesh Pro-B is $20.99, although the price is subject to change without warning. Since the recommended dosage is only one capsule per day, you will spend 70 cents per day in order to maintain this regimen. Users who take advantage of the subscribe option on Amazon for this supplement get to take 5 percent off of the purchase price.
Conclusion Of Our RepHresh Pro-B Review
RepHresh Pro-B is a supplement that really does what it claims it can do for balancing out pH levels and easing minor discomfort. Even still, some women who reviewed this product stated that they do not feel that it as effective as other products which cost a tad more money, which basically boils down to the low cost reflecting low quality which shows in its efficacy.
In addition, this supplement contains only two probiotic strains.
Bringing you top reviews and product analysis - Consumer Advisors.