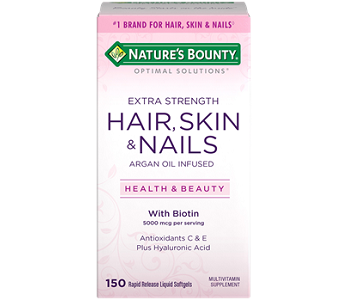 User Ratings (

0

Votes)

0
Today we review Extra Strength Hair, Skin, And Nails by Nature's Bounty. Infused with argan oil, this supplement contains 100% of the daily recommendation of more than 11 key vitamins and minerals. This formula is specially formulated to help your hair, skin, and nails grow healthier, brighter, and stronger.
Ingredients
With 23 different vitamins and minerals, this supplement has many of the ingredients you need to help see improvement in your hair, skin, and nails.  The one big concern we have with the ingredient list is that the biotin, which is a major nutrient for these cells, only has 5,000 mcg per serving. The optimal, doctor recommended dose of biotin is 10,000 mcg daily.  This means this formula only offers half of the needed biotin to make this formula as effective as possible.
Dosage
Each dose consists of three softgels.  One dose should be taken per day. For the best results, all three softgels should be taken together with a meal.
Possible Side Effects
While no side effects are stated on the website, we found customer review that reported many different side effects.  Multiple customers stated they broke out in acne or even minor rashes once beginning this product. Others said this supplement caused them stomach pain to the point the could not continue taking these softgels.
Price
This manufacturer does not sell products directly to their consumers.  Instead they link you to other third party sellers. For the 150 count bottles, we found prices ranging from $5.51 to $30.02, all with differing shipping costs.  With such a huge range of prices, it is difficult to know if you are receiving the best deal on this product.
Guarantee & Feedback
There is no information regarding a guarantee or return policy listed on Nature's Bounty's website.  Because they do not deal directly with customers, they most likely do not offer refunds on returned products.  Instead, you will need to search these policies on the third party sites you decide to make your purchases from.
As far as customer reviews, we found that this product has many negative reviews.  One of the biggest, most common reviews, is that these supplements arrived melted into one giant glob in their bottle.  The way they had melted made them completely unusable. Others stated that these softgels have such a strong smell and taste they were unable to stomach taking these softgels for more than a few weeks.
Our Conclusive Review About Nature's Bounty Extra Strength Hair, Skin, And Nails
Nature's Bounty Extra Strength Hair, Skin, And Nails had a few positive attributes.  Each serving does come with 23 vitamins and nutrients to help build stronger hair, skin, and nails.  Also, of those 23 nutrients, over 11 of them have 100% or more of the daily recommended dose.
There are, however, many concerning factors that we found about this supplement.  First of all, the daily dose is three capsules, which can be difficult to take all at once.  Next, there were a few unnoted side effects that were reported in customer reviews. Also, many customer reviews mentioned the product being shipped in a large, melted mess.  Lastly, the company does not sell their products directly to consumers, which also allows them to not offer a refund policy or money back guarantee on their products. For all of these reasons, we cannot recommend this supplement to help you see the results you want.
Bringing you top reviews and product analysis - Consumer Advisors.