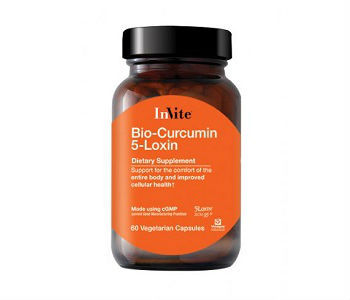 User Ratings (

0

Votes)

0
One of the most powerful antioxidants available on the market today is Turmeric. The benefits of taking turmeric have been publicized heavily and the supplements to hit the market are numerous. One of the most talked about benefits is decreased inflammation in the body. Other benefits are improved digestive health, better cardiovascular health, elimination of free radicals in the body and many more. With the list of available supplements on the rise for turmeric supplementation, it is necessary to look into the products before purchasing one.
A supplement that is worth discussing is InVite Health Bio-cucumin and 5-Loxin, which contains highly potent ingredients and is easily to absorb by the body. It is made from all natural extracts and contains lots of healthy compounds. There are no pesticides used on the products contained in InVite Health Bio-cucumin and 5-Loxin, which lowers the risk to users for side effects or allergic reactions. Specifically the manufacturers state that they have developed a formula that targets inflammation in many parts of the body.
Outlined below are further details for InVite Health Bio-cucumin and 5-Loxin including; ingredients, dosage, price point, product guarantee and an overall conclusion on the value for money of the product.
Ingredients
Curcuma Longa Root Extracts
Curcuminoid Complex
Boswellia Serrata Resin Extracts
Vegetable Stearate
Vegetarian Capsule
Dosage
The manufacturers recommend that 1-2 capsules be taken daily after meals. It is highly recommended that people consult with a health care practitioner to seek advice on the appropriate individual dosage for this product.
 Price
One bottle of InVite Health Bio-cucumin and 5-Loxin costs $ 59.95 and contains 60 capsules. A discount price of $ 47.96 is available if purchased from the manufacturer, which equals approximately a 20% savings. A 40% discount is also offered if customers purchase 2 or more bottles in an order.
Guarantee
There is no information provided by the manufacturer on the refund policies for this product. Therefore it is the purchasers risk to buy the product, as they will not receive a refund if they are unsatisfied with their purchase.
Conclusion Of Our InVite Health Bio-curcumin and 5-Loxin Review
Overall, there are some benefits in choosing InVite Health Bio-cucumin and 5-Loxin for turmeric supplementation. However, the bad seem to out way the good. The price point of the product is definitely a drawback and the lack of customer satisfaction guarantee is as well.
Bringing you top reviews and product analysis - Consumer Advisors.