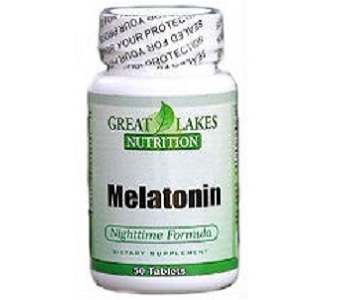 User Ratings (

0

Votes)

0
This is a product review for Great Lakes Nutrition Sleep Help Melatonin. This dietary supplement claims to maintain the circadian rhythm or the body's internal clock that regulates your sleep and wake up cycle. It helps people who face sleep-related problems because of the disruptions caused by jet lag, poor vision, and shift work. Continue to the following sections to learn more about this dietary supplement in order to make the right purchase decision.
Ingredients
This product contains:
5 percent pure melatonin (3 mg)- This ingredient is a hormone produced in your brain. It plays a significant role in regulating the circadian rhythm of your body, which determines when to wake up and when to fall asleep.
Dosage
Users should take a tablet at sleep time. Allow the tablet to dissolve under your tongue for fast absorption. You can also swallow the whole tablet. Make sure that you do not take more than the recommended dosage. In addition, pregnant women, nursing mothers, and children below eighteen years should not take this product. The same applies to persons who are taking prescription medications such as antidepressants.
Possible Side Effects
Users should reduce dosage if they experience drowsiness. This warning implies that there are chances of experiencing drowsiness due to continuous consumption of this product. Melatonin can cause unwanted effects if consumed for prolonged periods. Furthermore, users should not drive, operate heavy machines, or engage in potentially risky tasks when using this product. It is advisable to consult a healthcare professional to know more about this formula.
Price
The retail price of one bottle containing 50 tablets is $4.75, but you can purchase it from the manufacturer at a price of $3.95. This is a relatively low price compared to the price of other products in the market. In this regard, some customers might question the quality of this product based on underpricing. We did not find any price discounts for products bought in large quantities.
Guarantee
The manufacturer of this product is committed to providing customers with high-quality products to ensure satisfaction. The money-back guarantee offered by the manufacturer is a sign of this commitment. Dissatisfied buyers have 30 days to return both opened and unopened bottles for a full refund of the purchase amount. If you purchased multiple bottles, return the unused bottles unopened and with the sticker in place. Ensure that all unopened products are sellable in order to qualify for a refund. We did not find any customer reviews for this product.
Conclusion Of Our Great Lakes Nutrition Sleep Help Melatonin Review
In sum, this dietary supplement contains melatonin as the key ingredient. Melatonin is known for its ability to reduce jet lag. Customers should evaluate the positive and negative aspects of this product before making a purchase decision. The major positive features include a money-back guarantee and an adequate amount of the key ingredient. The negative features of this dietary supplement include the lack of customer reviews and a low price. Without customer reviews, we are unable to tell whether users are satisfied with the results of this supplement. Another significant drawback is that this product is not for all people.
Bringing you top reviews and product analysis - Consumer Advisors.