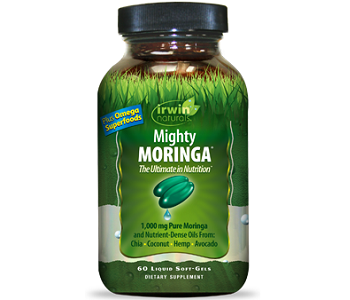 User Ratings (

0

Votes)

0
There are a few plant extracts that have been used in traditional medicine for centuries to treat a variety of ailments and boost general health. Moringa oleifera is one such plant: it contains a variety of minerals, vitamins, amino acids and antioxidants. Granted, there are many Moringa extracts on the market, which claim to achieve a variety of results. In this review, we investigate Irwin Naturals Mighty Moringa, which aims specifically to supplement your diet and improve health.
Ingredients
Moringa Oleifera extract
Hemp Oil
Coconut Oil
Chia seed oil
Bioperine black pepper extract
Ginger root extract
Moringa Oleifera extract is a powerful plant based supplement, which contains calcium, iron and potassium. It is also high in Vitamins A, C and E. Vitamins and minerals are essential for normal functioning of all organs, but most importantly the nervous system. It also contains antioxidants which prevent damage to cells and subsequent inflammation. Most notably, Moringa extract contains a substance called benzylamine, which acts in the body's insulin pathway and can reduce body weight.
This suplement contain hemp oil which has been shown in recent research to moderate weight loss and boost metabolism. Coconut oil is believed to have similar effects, but there is little research to back this claim up.
Avocado oil has been shown to lower harmful cholesterol and improve beneficial cholesterol. Chia seed oil which, contains high amounts of omega-3-fatty acids acts similarly. Recent research has discovered that omega-3-fatty acids act on heart and blood vessel receptors and improves their function.
The bioperine extract and ginger root have been added to improve the absorption of the other ingredients.
Dosage
Two gel capsules must be taken with a meal and a full glass of water once a day.
Each capsule contains 500 mg of Moringa extract, which means two capsules give 1000 mg. This dosage is sufficient to yield some effects, but there are other supplements which contain pure Moringa extract with higher doses.
Possible Side Effects
Pregnant women should avoid the use of this supplement as it may cause harm to the developing baby. Otherwise, there appear to be no side effects for this product.
Price
One bottle of 60 capsules can be purchased online at $16.08. Despite extensive research, no discount could be found, especially for buying multiple products at once.
Guarantee & Feedback
Irwin Naturals offers a 90 day money back guarantee, whether the product is opened or not. There are, however, no customer reviews available to support the effectiveness of this product.
Our Conclusive Review about Irwin Naturals Mighty Moringa
Mighty Moringa contains all natural products, which present no major side effects. Nonetheless, there are some ingredients which have little scientific support and the dosage of Moringa extract in this product is not the highest available.
The price of each bottle is reasonable, and the manufacturer offers a good guarantee. It is unfortunate that no discount for buying in bulk is not offered because long term use of the product then becomes difficult. We do find it a bit concerning though, that there are no customer reviews available, so the efficiency of this product is not independently supported.
Bringing you top reviews and product analysis - Consumer Advisors.