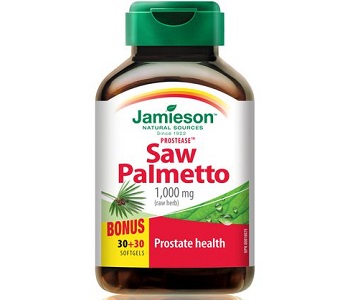 Quality of Ingredient

7.5

User Ratings (

0

Votes)

0
Read our review below about Jamieson Prostease Saw Palmetto, a dietary supplement that is intended to support prostate health. The manufacturer claims that the product is able to relieve urologic symptoms like weak urine flow, incomplete voiding, and frequent daytime and night time urination.
Ingredients
Jamieson Prostease combines Saw Palmetto with other prostate-healthy ingredients to help support healthy prostate function and relieve symptoms associated with benign prostatic hyperplasia.
Other ingredients are Gelatin, pumpkin seed oil, yellow beeswax, glycerin, soybean oil, lecithin, sodium copper, chlorophyllin, and titanium dioxide.
When we read questions asked by consumers on the manufacturer's website, we discovered that the gelatin contained in this supplement is from beef. It is disappointing that this is not disclosed on the list because some individuals do not eat meat. If we had not read the questions and answers, we would not have known that it contains a meat ingredient.
Dosage
The manufacturer recommends to take 1 softgel with meals daily. The minimum and maximum number of capsules to be taken per day would be useful if indicated because some individuals only have two meals a day, while some may have five meals a day. Therefore, if you are instructed to take a tablet with meals, it must be indicated how many times.
Possible Side Effects
No side effects have been reported from using this product in particular. However, some people may experience side effects from Saw Palmetto. There have been reports of diarrhea, constipation, nausea, vomiting, dizziness  and headache associated with taking it.
Price
You can purchase Jamieson Protease from online third-party retailers for a price ranging between $20.78 and $29.99. Discounts are available from some of the retailers.
Guarantee & Feedback
There is no money-back guarantee offered on this supplement, which is disappointing. If you buy it and does not work for you, you will not be able to return it and ask for a refund. We only came across two consumer reviews, that we cannot rely on, as it is better to read many reviews.
Our Conclusive Review About Jamieson Prostease Saw Palmetto
Jamieson Prostease Saw Palmetto seems to be a decent product, especially because it contains one of the key ingredients that help improve prostate health, which is the Saw Palmetto.  We did not come across any information about side effects, which is good. However, Saw Palmetto can have some side effects on some individuals. We also found out that the gelatin that is contained in this product is a beef gelatin, which is not good for individuals who do not eat meat products. Moreover, no money-back guarantee is offered by the manufacturer, and that puts the customer at risk of losing their money if they do not benefit from using the supplement. Lastly, there were only two consumer reviews on one of the major online retailers. We were disappointed to see that because it could mean that there are not many people that have used the product, which is a concern. Rather buy a product that has been used by many, and read about their experiences to help you make an informed decision. it is also not a good idea to buy a product that does not have a money-back guarantee.
Bringing you top reviews and product analysis - Consumer Advisors.