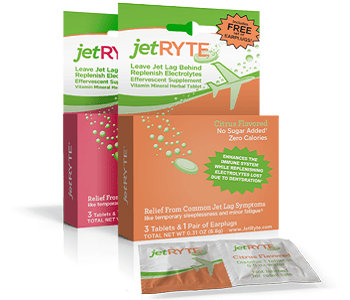 User Ratings (

0

Votes)

0
This product review presents you with every bit of information you need to know about JetRyte. This dietary supplement contains ingredients that claim to overcome the leading causes of jet lag among travelers. It works by combating the symptoms of dehydration and anxiety. Continue reading the rest of this review to learn more about this dietary supplement.
Ingredients
Vitamin C– It improves the blood's ability to absorb iron, boosts immunity, combats fatigue, and improves physical endurance.
Vitamin B6- This vitamin is good for migraine headaches, dizziness, and cramps. It also boosts appetite and immunity.
Vitamin B12- This is a mood, concentration, immunity, and energy booster.
Magnesium- It boosts blood circulation and promotes normal blood pressure.
Sodium Bicarbonate- It is essential for stomach problems such as acidity, upsets, indigestion, and heartburns.
Potassium Bicarbonate- It is needed for the proper functioning of the nerves, heart, cells, kidneys, and muscles.
White Willow- The bark extract has salicin, which eases pain, inflammation, and headache.
Green Tea- The leaf extract can treat different conditions including aches, pains, depression, immune problems, and headaches.
Melatonin- It synchronizes your biological clock and has antioxidant properties.
Probiotic- It promotes digestion and fights harmful bacteria.
Ginger root- It alleviates dizziness, inflammation, and nausea.
Dosage
You should take this product during the flight. Dissolve 1 tablet in 6 ounces of water immediately after takeoff.  Repeat this process after every two to three hours. You should not place the tablet directly on your mouth. Pregnant women, children, and lactating mothers should not use this product.
Possible Side Effects
This product is free from ingredients that might cause allergic reactions such as eggs, milk, peanuts, fish, tree nuts, shellfish, artificial colors, added sugar, and artificial flavors.  However, people who are allergic to aspirin should not use this product.
Price
You can buy this product once or on a subscription program. A single pack without subscription costs $6.99 while a double pack without subscription costs $12.99. A triple pack without subscription costs $19.99. A single pack bought on subscription comes with one free pack and costs $6.99. A double pack bought on subscription comes with two free packs and costs $12.99. A triple pack bought on subscription comes with three free packs at a price of $19.99. Therefore, customers can take advantage of the subscription program.
Guarantee
The manufacturer's return policy applies to unsealed packs and is valid for one month from the date of purchase. There is no money-back guarantee for used products meaning that users who purchase only one pack take the risk of losing their money. According to the customer testimonials available on the product's official site, most users are happy with this product.
Conclusion Of Our JetRyte Review
In summary, this product contains many key ingredients that are present in most products that purport to combat jet lag and related problems. However, you should compare the positive and negative characteristics of this dietary supplement in order to make the right purchase decision. The positive characteristics of this product include a sufficient dosage with many trusted ingredients and several positive customer reviews. The negative features of this product include a return policy that does not cover unsealed products and the possibility of experiencing allergic reactions among users who are allergic to aspirin.
Bringing you top reviews and product analysis - Consumer Advisors.