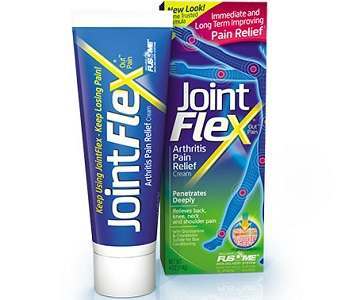 User Ratings (

0

Votes)

0
What is Osteoarthritis? If you are reading this article then there is a big chance that you or somebody you know has suffered from it. Osteoarthritis is when your joint cartilage begins to degenerate in the underlying bones. This will often happen in middle-aged people but can happen much sooner too.
Osteoarthritis causes a lot of discomfort and will make people stiff in the joints and when they move. The most common places people witness pain is in the hips, knees, and thumbs. Could JointFlex be the help people need? This OTC JointFlex review is here to give you the low down on this product.
JointFlex is a cream that can possibly help people who suffer from osteoarthritis symptoms. Glucosamine and chondroitin are used in the product but the main ingredient is camphor. Camphor can reduce pain and swelling, relieving inflammation of osteoarthritis.
Ingredients
The main ingredient in this product is Camphor. Camphor is safe to use on the skin.  It is designed for easy application too and should get to work quite quickly. You do need to keep using it to experience the benefits.
This product has a long list of inactive ingredients, including glucosamine and chondroitin sulfate. Both of these ingredients can help support and strengthen your ligaments and joints. They actually help lessen pain experienced from aching joints also. It is not clear why these two ingredients would be part of the inactive ingredients and not part of the main ingredients like in other joint products. There are also many other inactive ingredients which may "water down" the effects of these ingredients.
Dosage
Before applying the cream, you need to make sure the area is clean and dry. The manufacturer states that you can apply generous amounts on painful areas. Massage the cream in until it disappears. The process can be done up to 4 times a day which sounds like a lot of maintenance, considering that one must continue using the product to keep the benefits. The website says to use daily for at least 2 weeks then continue to use daily after. It is not clear if you should use it less after the two weeks.
Possible Side Effects
Be advised that this product contains shellfish derivatives. Any person with any type of fish allergies should consult a doctor before using any product like this. You should also not use on irritated or broken skin, or children under the age of 12.
Price
The going rate for JointFlex is $17.95 for a 4 oz tube. It is not clear how long this should last for. You can also sign up to auto-delivery and get 10% off.
Guarantee & Feedback
The company offers a guarantee if you are not happy with the results. You have 30 days to return the product, but first, you need to contact customer service. This product has received many positive reviews on Amazon.
Our Conclusive Review About JointFlex
The makers of JointFlex provide a lot of information about this product and how to use it. It also comes with a money-back guarantee. However, it not clear why two important ingredients for a joint product are part of the inactive ingredients list. It is, therefore, not stated the quantity of these ingredients. The high number of inactive ingredients may also increase the risk of skin irritation from using the product.
Bringing you top reviews and product analysis - Consumer Advisors.