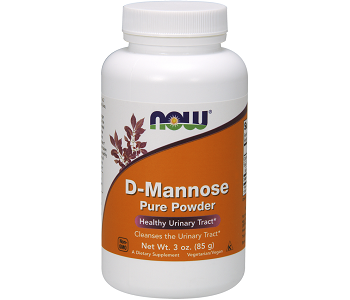 User Ratings (

0

Votes)

0
UTIs are one of the most common infections that are diagnosed in the U.S. While it is estimated that 50% of women will experience one in her lifetime, men are also susceptible to UTIs. Symptoms include pain and burning sensation during urination, cloudy or bloody urine and nausea and vomiting. It can affect any part of the urinary tract and while some can heal themselves, others will require treatment or can otherwise be so severe that they can become life-threatening if they are untreated. This review is going to examine NOW D-Mannose Powder. This product is a supplement that comes in powder form and is taken as a way to prevent future UTIs from occurring. You may see relief from UTI symptoms as fast as within the first 48 hours upon taking D-Mannose.
Ingredients
This supplement only contains 2,000mg of D-Mannose. D-Mannose is a naturally occurring simple sugar that the body metabolizes in small amounts while the remainder is quickly excreted in the urine. It is believed to prevent UTIs from occurring because it interferes with the particle attachment in the urinary tract and allows the bad bacteria to be flushed out with the urine as opposed to multiplying and manifesting into an infection.
Dosage
The manufacturer recommends taking 1 level teaspoon one to two times daily with water or juice.
If you are under medical supervision, taking prescription medication, nursing or pregnant, you should consult with your healthcare provider before taking this product.
Possible Side Effects
NOW does not list any possible side effects from taking D-Mannose. We researched and found common mild side effects associated with taking high amounts of D-Mannose include bloating, gas and diarrhea.
Price
One 6 oz. bottle of D-Mannose is available on NOW's website for $59.99. There are no bulk purchasing options offered.
Guarantee & Feedback
NOW does not offer a money-back guarantee. Consumer testimonials were mixed. Some were satisfied with the product but others claimed that they experienced adverse side effects from taking this product and were disappointed that each bottle is extremely expensive. Because there is no money-back guarantee, they were also unable to get their money back. We recommend contacting the manufacturer before buying this product to inquire about any up to date refund policies.
Our Conclusive Review About NOW D-Mannose Powder
This product appears to be decent. It contains a high dosage of D-Mannose per serving and comes in powder form that you can mix with water or juice. However, the price for a bottle of NOW D-Mannose is extremely high especially considering that NOW does not offer a money-back or satisfaction guarantee. This means that if you try this product and experience adverse side effects or it simply does not work for you, like many consumers have reported, you do not have the ability to return it and get your money back. D-Mannose is a supplement that you can potentially take daily over the course of a lifetime to prevent UTIs if you are prone to them and to derive from its general health benefits. However, NOW does not offer any sort of bulk purchasing packages or discounts to make continually taking D-Mannose financially feasible. Taking all of these factors into consideration, NOW D-Mannose is too risky and expensive and we feel steered towards inquiring further about other D-Mannose supplements that come with better consumer protection guarantees, offer bulk purchasing options, are cheaper and have positive consumer reviews.
Bringing you top reviews and product analysis - Consumer Advisors.